The 10:30 from Marseille
When a young woman is found strangled in a sleeping berth on the overnight Marseille to Paris train it's plain that her killer must be one of the passengers who shared the carriage with her. But Parisian police detectives Grazziano and Gabert soon find themselves racing to keep up as their suspects are killed one-by-one… French novelist Japrisot is best known around the globe for his international bestseller of love and war, The Very Long Engagement, but before he turned to romance, he was one of his country's most celebrated crime writers. This is one of his best, a tautly plotted mystery laced with sparkling Gallic wit.
4:50 from Paddington
Two trains traveling across the winter English countryside briefly run parallel to one another. From her window in one an elderly lady catches a brief glimpse of the carriage opposite. She sees a man strangling a young woman in a fur coat. Luckily for readers, the senior in question is Elspeth McGillicuddy and she's on her way to visit her great friend, Jane Marple. Soon a mystery featuring murder, inheritance, trains, and poison is in full swing. The Queen of Crime was at her peak during the UK's Golden Age of Steam, so it's hardly surprising that railroads feature frequently in her mysteries. Naturally, Murder of the Orient Express is the most famous of these, but this 1957 novel—filmed four years later as Murder, She Said—has a more traditional village setting and Miss Marple on its side.
The Wheel Spins
In White's celebrated mystery, disoriented and possibly delusional English aristocrat, Iris Carr finds herself crammed onto a train somewhere in Europe with an assortment of shady English ex-patriots and clusters of menacing foreigners with connections either to Soviet Moscow or Nazi Germany. When one of the Brits, a school governess names Miss Froy, apparently disappears into thin air, Iris is forced to turn detective, a task made all the more difficult by the fact that her fellow passengers deny ever having seen Miss Froy in the first place. White's twisting thriller was made into a memorable movie—The Lady Vanishes—by Alfred Hitchcock, and has been in print continuously ever since its first publication in 1936.
Murder on the Ballarat Train
Rail travel across the bush country of Australia was likely never as eventful as in this 1991 historical mystery with a 1920s setting from lawyer-turned-crime-writer Kerry Greenwood. The train has no sooner left Melbourne station than the passengers are knocked cold with chloroform, a woman disappears after being stripped of her jewelry and there's a lot of wild talk about black magic, murderers-for-hire, and white slavery. Fortunately for the flustered passengers, Greenwood's glorious high society flapper-sleuth The Honourable Miss Phryne Fisher is on board with her trusty Beretta .32. Miss Fisher is soon in the thick of the action and with her characteristic mix of charm, wit and gunplay sorts out everything before the steam engine chugs into its destination.
Strangers on a Train
Unhappily married architect Guy Haines meets Charles Bruno by chance on a train crossing Texas. The men casually discuss the two murders that would change their lives. Unhappily for Haines, Bruno turns out to be one of the evilest sociopaths in all of crime fiction. What began for Haines as an idle—if nasty—chat about killing his wife so he can marry the girl he loves quickly turns into a grisly nightmare of blood and blackmail. Highsmith's brilliant psychological chiller—filmed by Hitchcock in 1951—is a classic of the genre as well as a chilling warning about the dangers of sharing your secrets with fellow travelers.
The Necropolis Railway
The first of English writer Andrew Martin's fine series of historical mysteries featuring Edwardian railway detective Jim Stringer. The young Yorkshireman is newly arrived in London and finds himself working as a porter on the London train line that carries dead bodies from the overcrowded city to suburban graveyards. In this macabre setting, a series of apparently accidental deaths prick young Stringer's interest and he turns sleuth, digging for clues along the tracks and investigating his increasingly hostile workmates. Martin is a steam engine enthusiast who has written extensively on the history of the British rail network, but his knowledge is lightly worn and never holds up a gripping, fast-paced story.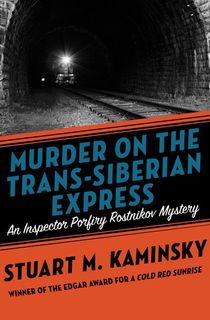 Murder on the Trans-Siberian Express
The Chicago-born Kaminsky won an Edgar for his 1989 Porfiry Rostnikov mystery A Cold Red Sunrise and in this, the 14th outing for his modern-day Russian cop, there's little sign of the series going off the rails, except perhaps literally.
Murder on the Trans-Siberian Express is a rattling multi-layered mystery that sees the dogged, one-legged Moscow detective boarding the famous train for the five-day journey to Vladivostok. As the locomotive chugs across the tundra, Rostnikov battles with troubles in his native city where a female serial killer is bumping off wealthy businessmen and the leader of an anti-Semitic punk rock band have gone missing, raising fears of riots. Meanwhile, the train is carrying a blackmailer with a secret so dark it could potentially bring down the Russian government. Kaminsky's novel roars along like a locomotive.