With its rolling hills and coastal beauty, there's something inherently cozy about Ireland. So it's not too surprising that the country—and its people—are a popular subject for cozy mysteries! Whether the story is set over on the Emerald Isle or just during Saint Patrick's Day festivities, Irish cozies always deliver. From dead dancers to shocking revelations at an Irish wake, here are 12 charmingly cozy Irish mysteries.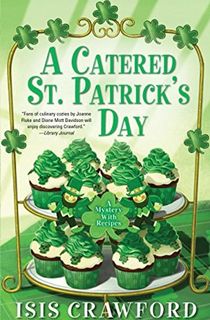 A Catered St. Patrick's Day
The Saint Patrick's Day celebrations in Longely, New York, come to a screeching halt when the body of Mike Sweeney is discovered floating in a vat of green beer. The top suspect is Duncan Nottingham, the nephew of the rich and influential Bree Nottingham. Sure of his innocence, Bree knows she can turn to Bernie and Libby Simmons, sisters known for both their catering company and their ability to solve mysteries. Bree is one of their most loyal customers, so the Simmons sisters take the case.
When every bit of evidence Bernie and Libby find seems to point towards Duncan, it seems like this case may have an unfortunate conclusion. But is he really the killer? Or is the real culprit hiding just under their noses?
Irish Aisles are Smiling
When wedding planner Annabelle Archer's client asks her to find the perfect dramatic Irish setting for her wedding, her team is excited to take on the task. They always knew it would be a bit chaotic with the winding roads and flocks of vacationers everywhere, but they didn't expect murder. A tourist has been found dead in a castle garden, and someone seems to be trying to frame Annabelle's assistant for the crime. Now it's a race against time for Annabelle to find the real killer while still planning the perfect wedding.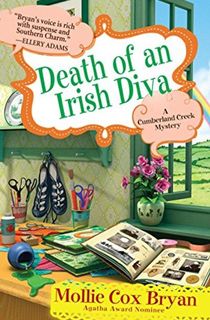 Death of an Irish Diva
When famous Irish dancer Emily McGlashen's body is discovered in her studio soon after the Saint Patrick's Day parade, all of Cumberland Creek is shocked. Things get even more out of hand for the ladies of the Cumberland Creek Scrapbook Crop when one of their own, Vera, turns out to be the prime suspect. She wasn't Emily's biggest fan, especially since she took business from her own dance studio, but she certainly would never kill her. Eager to defend their friend, the ladies, led by freelance reporter Annie, begin an investigation of their own.
Every discovery Annie makes just seems to lead to more questions than answers. Frustrated, the croppers are surprised to find the clues they've been looking for in an old scrapbook. But their investigation might put them on a collision course with a killer more twisted—and dangerous—than any of them could have imagined.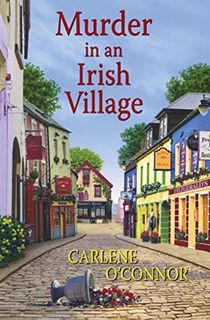 Murder in an Irish Village
If you want a whole series of Irish cozies, look no further than Carlene O'Connor's Irish Village Mysteries! One year after their parents died in a car crash, Siobhán O'Sullivan and her siblings run their family business, Naomi's Bistro in Kilbane, County Cork. An already tumultuous year gets even crazier when the O'Sullivans discover a man, stabbed to death by barber scissors, propped up at a table in the bistro. With the garda suspecting them and their business threatened, Siobhán takes it upon herself to find the real killer.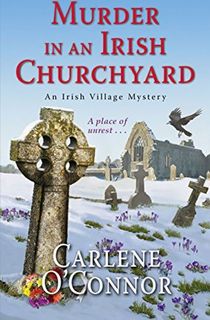 Murder in an Irish Churchyard
Now a member of the garda, Siobhán O'Sullivan quickly gets assigned to her first official case. A body has been discovered in the graveyard at St. Mary's...aboveground. No one recognizes the victim, but apparently, an American tourist was poking around Kilbane looking for information about one of his ancestors. Now, Siobhán will have to sift through generation's worth of history to find a motive, all while avoiding a killer who doesn't want the truth to come out.
Related: Mysteries Abroad: 8 Irish Crime Dramas to Binge Watch Tonight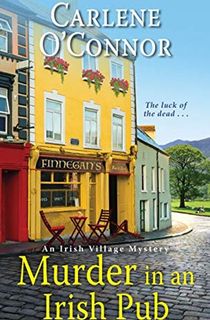 Murder in an Irish Pub
When famous poker player Eamon Foley is found hanging from the rafters of Rory Mack's pub, Detective Sargent Macdara Flannery assumes it's a suicide. But officer Siobhán O'Sullivan isn't so sure. At the encouragement of Foley's pregnant widow, Siobhán begins searching for the truth. But she has to be careful since this killer has more than a few tricks up their sleeve.
Murder in an Irish Cottage
When Macdara Flannery's cousin Jane frantically calls him for help, he and his fiancé Siobhán O'Sullivan rush to her remote village to see what they can do. Once they arrive at the cottage, they find Macdara's Aunt Ellen dead in her bed wearing an elegant red dress. If the nearby pillow and teacup are anything to go by, it seems the woman was smothered and poisoned. But the local villagers have a much more supernatural explanation.
They insist the cottage was built on an old fairy path and is cursed as a result. Macdara and Siobhán suspect that the killer is a bit closer to home than fairies, but they may be just as hard to find...and just as evil.
Related: Splinter the Silence: 11 Gripping Val McDermid Books
Murder in an Irish Bookshop
When Kilbane's new bookshop hosts an event for Irish authors, Siobhán O'Sullivan thinks it's the perfect distraction from training new garda officers and trying to find a date for her wedding. The attendees find the whole event slightly soured by Deirdre Walsh, an author who spends more time complaining about the publishing industry instead of promoting her work. But no one expects it when Deirdre is found murdered in the back of the bookshop with pages from bestselling author Nessa Lamb's books stuffed into her mouth. Now it's up to Siobhán to solve a case that's stranger than fiction.
Related: 14 Charmingly Meta Bibliomystery Books You Haven't Read Yet
How to Fake an Irish Wake
Just after she learns that her father isn't actually her father, Mags Murray's beloved grandmother dies. Now, Mags has to extend her Christmas vacation to Ireland in order to host her wake and sell the cottage she left her. One day, Mags is approached by Finn O'Brien, who believes an old photograph will lead him to the truth about his own father. Missing her adventures with her genealogist grandmother, Mags agrees to help.
But a simple investigation into family history takes a dark turn when Finn nearly dies in a car crash that didn't seem to be an accident. Someone out there doesn't want Finn to find his father, and it's up to Mags and her childhood friend Biddy McCarthy to find out why. In order to track down Finn's father and unmask an attempted murderer, the duo stage a fake Irish wake. But the secrets revealed at the event will prove more shocking than they could have ever imagined.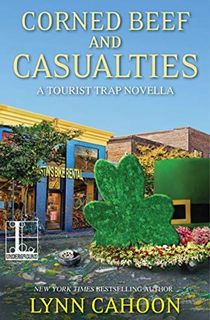 Corned Beef and Casualties
The Saint Patrick's Day festival in South Cove, California is always a draw for tourists. That's great news for business owners like Jill Gardner, but nothing more than an annoyance for the other locals. But it's clear that tensions are running higher than normal when a visiting woman is found dead on the beach. Teaming up with her police officer boyfriend, Jill makes her way through the chaos of the parade to find the killer.
Related: Go On A Coastal Vacation In This Delightful Cozy Mystery Series
Dial P for Poison
After both her personal and professional lives take a nosedive, Maggie Doyle goes to stay with her aunt in Ireland. In exchange for room and board, Maggie just has to make cocktails at the local Movie Theater Café. But when a woman drops dead after sipping drinks at the monthly movie club meeting, all eyes turn to Maggie's aunt. As she sets out to clear her name, Maggie is joined by her alien-fanatic friend, a nun, and a puppy. But will they be able to catch the killer before they stir up more trouble?
Irish Parade Murder
When part-time reporter Lucy Stone meets the Pennysaver's latest hire, the ambitious Rob Callahan, she can't help but feel nervous. She thinks her anxieties about being replaced are confirmed when she gets assigned Tinker's Cove's annual Saint Patrick's Day parade only when Rob turns it down. She might see Rob as a rival, but Lucy is still shocked when he's suddenly accused of murdering a corrections officer. Convinced of his innocence, Lucy begins an investigation. But along the way, she'll learn truths that may have disastrous consequences for her own life.