As the days grow shorter and colder, there's one pastime readers can count on to keep them occupied: curling up inside with a brand-new read. From domestic thrillers to culinary cozies and historical mysteries, there's a flood of exciting new novels hitting shelves in the weeks and months ahead. Below, discover the top ten that we're most excited to get our hands on.
Available on December 1, 2020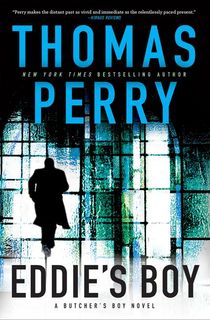 Eddie's Boy
The latest in Thomas Perry's Edgar Award-winning Butcher's Boy series, Eddie's Boy sees a Mafia hitman living out a peaceful retirement in the idyllic English countryside. However, his new life is shattered when thugs from his past come knocking with a vicious agenda. As Michael Shaeffer is thrust back into action, we catch a glimpse of his childhood and how he evolved into the feared Butcher's Boy who started a Mob war. From a "master of nail-biting suspense," Eddie's Boy is a must-read this winter (Los Angeles Times).
Related: Dance for the Dead: 14 Thrilling Thomas Perry Books
Available on December 29, 2020
The Mystery of Mrs. Christie
In 1926, bestselling mystery author Agatha Christie appeared to be a curious case of life imitating art when she vanished, stumping investigators and leading to a frantic manhunt. She reappeared 11 days later, claiming to be suffering from amnesia. The New York Times and USA Today bestselling author of The Only Woman in the Room has crafted a gripping reconstruction of Christie's mysterious disappearance, resulting in a read that "keeps the reader guessing" (Kirkus Reviews) and "makes for good fun" (Publishers Weekly).
Related: 100 Years of Agatha Christie: Celebrating the Larger-Than-Life Mystery Author
Available on December 29, 2020
Marion Lane and the Midnight Murder
There are some crimes that are so perplexing, even Scotland Yard can't make heads or tails of them. These are the cases taken on by the secretive group of detectives at Miss Brickett's Investigations & Inquiries. When one of their own is brutally murdered, Inquirer-in-training Marion Lane realizes that it was an inside job, and vows to find the culprit. A tale that pays homage to the classic locked-room mystery, bestselling author Stuart Turton has declared that "This is what would happen if a trainee James Bond was asked to solve an Agatha Christie mystery, and it's brilliant."
Available on January 5, 2021
Killer Comfort Food
Fans of culinary cozy mysteries will salivate over Lynn Cahoon's latest entry in the Farm-to-Fork Mystery series. Angie Turner finds herself in a tough position when a soybean processing plant starts buying up the land around her beloved Idaho farmhouse and restaurant. Even more troubling are the vicious rumors circulating about a socialite's disappearance and her connection to the budding development. Locating the missing woman and warding off the sharp-eyed developers is a tall order, but if anyone's up to the task, it's Angie.
Related: Take a Bite Out of Crime: 11 Culinary Cozy Mysteries Bursting with Recipes for You to Try Out While Under Quarantine
Available on January 5, 2021
The Wife Upstairs
It's been said that Rachel Hawkins is adept at "balancing snappy satire with edgy suspense," and her latest domestic thriller is no exception (Booklist). In this modern Gothic tale reminiscent of Rebecca and Jane Eyre, a dog walker in a ritzy neighborhood falls for handsome and mysterious widower Eddie Rochester. Her newfound happiness is marred by the intrusive legacy of his late wife, who drowned in a boating accident. Can she carve out her own place in Eddie's heart—and do it before the past catches up to them?
Available on February 2, 2021
Blood Grove
Hot on the heels of receiving a Lifetime Achievement Award from the National Book Foundation, prolific mystery author Walter Mosley is set to release the 14th entry in his Easy Rawlins series. The hardboiled private detective's latest case involves a racially-charged fist fight, a seemingly open-and-shut case that will take Easy from the gritty streets of 1960s Los Angeles to the homes of California's uber-rich.
Available on February 2, 2021
Finlay Donovan Is Killing It
On top of the stress that comes with being a single mother, novelist Finlay Donovan has career woes: the book she promised her literary agent is nowhere near complete. When she meets with her agent to discuss the plot of the upcoming suspense novel over lunch, she's mistaken for a contract killer by a sinister eavesdropper. The next thing she knows, Finlay has accepted a lucrative offer to make a man disappear. But if she thought being a working mom was hard, her new career as a hit mom has some tough lessons in store for her…
Available on February 23, 2021
Triple Chocolate Cheesecake Murder
When she's not busy baking pies, pastries, and other delectable treats for her bakery business, amateur sleuth Hannah Swensen is up to her elbows in murder. Her latest case gets personal: the mayor of Lake Eden, Minnesota has been murdered...and Hannah's sister is the prime suspect. It's up to Hannah to clear her sister's name and identify the real killer from among the mayor's many enemies in the latest culinary cozy from New York Times bestselling author Joanne Fluke.
Related: Murder Most Delicious: Where to Begin with Bestselling Cozy Mystery Author Joanne Fluke
Available on February 23, 2021
The Kaiser's Web
New York Times bestselling author Steve Berry "skillfully lays out yet another tantalizing historical what-if" in his latest thriller (Publishers Weekly). Two candidates are vying to become chancellor of Germany: a seasoned public servant and a bombastic nationalist. Former Justice Department agent Cotton Malone will have to solve the mystery of Hitler's last days and Nazi riches that mysteriously disappeared, before devastating secrets come to light and have far-reaching implications for the election and the fate of Germany as a whole.
Available on March 2, 2021
Every Last Fear
A ripped-from-the-headlines psychological thriller, Every Last Fear manages to be both page-turning and poignant. College student Matt Pine is confronted with devastating news: his parents and two younger siblings have died from an apparent gas leak while vacationing in Mexico. However, the FBI's probing questions lead Matt to believe that this tragedy could be something more sinister.
Related: 15 Mystery Book Bundles That Will Hook You From the Very First Page
At the same time, Matt is fielding media attention from a true crime documentary made about his older brother, who's currently serving a life sentence for murder. Could the cases be connected? This is "a fast-moving, often-emotional portrayal of a family in turmoil...fans of a good chase scene won't be disappointed, either" (Booklist).