There is a wealth of wonderful content outside the world of American television. Even beyond the obvious suspects of British mystery shows, there are heavy hitters from Ireland, New Zealand, Wales, Scotland, and beyond. But you'll find few shows more gripping than the gritty crime dramas coming out of Sweden, Norway, Denmark, Iceland, and Finland.
Whether you like wildly popular police procedurals that put their American adaptations to shame or lesser-known gems that explore the pains of unsolved crimes, these Nordic crime dramas will have you perched on the edge of your seat. Here are eight shows you can binge tonight on Britbox, Acorn TV, Netflix, and Amazon Prime.
Wallander
Based on the acclaimed books by Henning Mankell, this series follows cop Kurt Wallander (Kenneth Branagh) as he searches for the gritty truth behind the murders in his Swedish town of Ystad. Spanning four seasons and 12 episodes, each installment offers a gripping feature-length mystery. And if you want some insight into what made Wallander the complex detective that he is, check out Netflix's prequel series, Young Wallander, streaming now.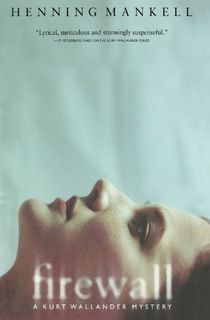 Darkness: Those Who Kill
A teenage girl has been kidnapped from a Copenhagen suburb. Missing for six months, the only person who believes she's still alive is investigator Jan Michelsen (Kenneth M. Christensen). As he digs deeper into her case, he discovers a cold case with eerie similarities. To help him find justice, he brings in the help of serial killer expert Louise Bergstein (Natalie Madueño). The series currently has 16 episodes, and a third season is set to be released in 2023.
Wisting
Homicide detective William Wisting (Sven Nordin) is on the hunt for an American serial killer hiding amidst his community. FBI agent Maggie Griffin (Carrie-Anne Moss) aids him in his search, but when Wisting is confronted with problems of an old case, he must fight to protect the lives of others even after he is suspended.
Rebecka Martinsson
Rebecka Martinsson (Sascha Zacharias) is a successful lawyer in Stockholm—until her cozy life is turned upside down by a crime that hits too close to home. She returns to her childhood home of Kiruna upon hearing news of the sudden, violent death of an old friend. But as she looks into the unexpected events, not everything is as it appears.
Related: 13 Thrilling Nordic Noir Novels
The Truth Will Out
In order to solve dead-end cold cases, Detective Peter Wendel (Robert Gustafsson) sets out to create a team of elite investigators. He gets his opportunity when the police are informed that Sweden's deadliest serial killer might be a fraud. With eight potential killers on the loose escaping justice, Wendel starts to recruit. Unfortunately, he's got only the bottom of the barrel to choose from.
Quicksand
Tragedy strikes a wealthy Stockholm high school when a shooting takes place within the halls. Afterward, the seemingly normal 18-year-old Maja Norberg (Hanna Ardéhn) is accused of murder. As she stands on trial, details come to light that raise doubts as to her involvement. Is she a killer? Or just one more victim?
The Valhalla Murders
Police profiler Arnar (Björn Thors) leaves Oslo to return to his homeland of Iceland to assist in the capture of the country's first serial killer. Working with Kata (Nína Dögg Filippusdóttir), the senior officer on the case, he traces a trail of seemingly unrelated victims. What they find at the end of the evidence is an abandoned boys' home with a horrific past.
The Killing
This popular Danish police procedural actually had an American remake produced by AMC—but why mess with the original when it's so good? Detective Sarah Lund (Sofie Gråbøl) delays her retirement plans to investigate the brutal murder of a young girl. When a prominent politician is linked to the case, Sarah is caught up in a tangled and complicated web of suspects.