Noir is often associated with America. Stateside crime fiction writers like Dashiell Hammett, James M. Cain, Dorothy B. Hughes, James Ellroy, and Jim Thompson all come to mind. But noir's core elements—its pitch-black subject matter, shocks of violence, and deeply troubled anti-heroes—have spread around the world to inspire new noir genres, each firmly rooted in a particular place.
Tartan noir finds its home in Scotland. The genre combines the grit of classic crime fiction with concepts that course through Scottish literature, from the duality of the soul as explored in Robert Louis Stevenson's Strange Case of Dr. Jekyll and Mr. Hyde to damnation and the nature of good and evil as examined by James Hogg in The Private Memoirs and Confessions of a Justified Sinner.
While some Scottish crime writers deride the title, feeling it to be overly "othering" and tourist-centric, Tartan noir is one of the most compelling genres of crime fiction today. Its practitioners include award-winning and internationally bestselling authors like Ian Rankin, Denise Mina, and Val McDermid. New to this misty, moody genre? We've got your back, inspector. Here are the best Tartan noir books to jumpstart your obsession.
How the Dead Speak
Val McDermid is one of the most prolific and beloved Tartan noir scribes. Her crime novels dive deep into humanity's capacity for violence while regularly featuring strong female characters. McDermid is best known for her Tony Hill and Carol Jordan thriller series, which follows clinical psychologist Tony Hill and DCI Carol Jordan as they track down brutal killers. The series inspired the popular ITV television series, Wire in the Blood. How the Dead Speak, McDermid's newest Hill and Jordan book released this December 2019, finds Tony Hill and Carol Jordan on diverging paths in the criminal justice world. That is, until construction workers unearth dozens of skeletons at an old orphanage. When forensic analysis suggests one of the skeletons belongs to a present-day killer who's very much alive and behind bars, Hill and Jordan reunite to get to the bottom of the ghastly case.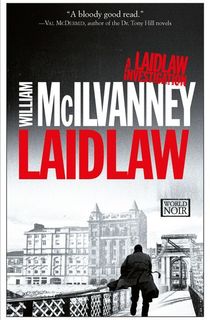 Laidlaw
Often called the "father of Tartan noir", McIlvanney's legendary status makes him as good a writer as any to ignite your journey into the crime fiction genre. McIlvanney wasn't just a crime writer–he also wrote philosophical and literary novels. But McIlvanney's Jack Laidlaw crime trilogy ushered in a new era of noir and crime fiction in Scotland. Laidlaw is the first in the series, and introduces readers to the hard-drinking philosopher detective.
The Cutting Room
If you've enjoyed the twisty paths of novels written by authors like Sarah Waters, especially her spectacular Fingersmith, you'll love Louise Welch. Set in modern Glasgow, Welsh's first novel follows an auctioneer who discovers a set of photographs that show the images of what appear to be a horrible crime.
Garnethill
Mina's writing career has been long, varied, and award-winning. Perhaps best known for adapting The Girl With the Dragon Tattoo as a graphic novel, Mina's original work should not be forgotten. The Garnethill trilogy takes Maureen O'Donnell as its narrator, a woman who has accidentally ended up in the midst of some horrifying cases. In the first installment, Maureen awakens to discover her boyfriend's dead body–and she's the prime suspect.
Related: 10 Thrilling Nordic Noir Novels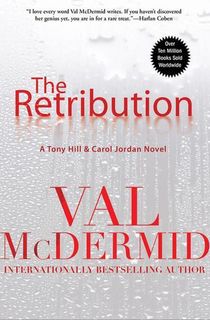 The Retribution
Hungry for more Scottish crime fiction from McDermid? The Retribution, the seventh Hill and Jordan novel, finds the crime-fighting pair facing down one of their most savage adversaries: Jacko Vance. Jacko is a brilliant ex-celebrity and sociopath whose total lack of remorse still haunts Tony Hill. The killer was securely behind bars. But now he's escaped—and he's dead set on exacting revenge.
Related: Splinter the Silence: 11 Gripping Val McDermid Books
Truth Lies Bleeding
Tony Black's writing is as dark as his name. If you're a fan of bleak, realistic, hardboiled noir, take on the first installment in his DI Rob Brennan series, Truth Lies Bleeding. DI Brennan struggles in his return to work after his younger brother was shot and killed–and the magnitude of the case awaiting him doesn't make it any easier.
Related: Friends and Traitors: 11 Thrilling John Lawton Books That Will Make Your Pulse Race
Quite Ugly One Morning
Like some humor with your noir? Try on Brookmyre for size. His thrilling Tartan noir is darkly hilarious, tightly plotted, and sure to please. Jack Parlabane, Brookmyre's most beloved character, often stumbles into the answers of his crimes along the way to a bar. Try Quite Ugly One Morning to dip your toes into Brookmyre's fiction.
Related: 10 Forgotten Mystery Masterpieces
Take a Breath
Paisley is a newcomer to the Tartan noir scene, but her debut novel has already claimed its place alongside classics of the genre. Digging into organized crime in Glasgow, Take a Breath follows drug-dealing Paul and his beloved, Lena, as they struggle to get out–and stay out–of the dark underbelly of the city.
Related: 8 Crime Noir Books That Will Have You Reaching for Your Trench Coat
This post is sponsored by Grove Atlantic. Thank you for supporting our partners, who make it possible for Murder & Mayhem to continue publishing the mystery stories you love.