The latest James Bond movie, No Time to Die, is set to hit theaters this year. Starring Daniel Craig as the iconic spy, it follows Bond on a rescue mission to save a kidnapped scientist. With the world hanging in the balance and a dangerous piece of equipment in the wrong hands, this thrilling addition to the timeless movie series will undoubtedly be one of the most exciting to grace the big screen in years. It is scheduled to premiere on October 8, 2021. In the meantime, there are numerous spy books that are guaranteed to keep you entrenched in a world of thrilling adventures while you wait.
Related: 13 Nonfiction Espionage Books About Real-Life Secret Agents and Super Spies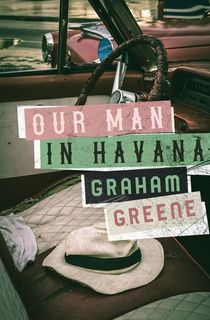 Our Man in Havana
For a classic British spy novel, look no further than Graham Greene's Our Man in Havana. Published in 1958, the story follows James Wormold who is recruited by the Secret Intelligence Service. As he crafts fictional reports on military equipment, they suddenly start coming true, leading him down a rabbit hole filled with mysteries of his own design. Regarded as one of the leading authors of the twentieth-century, Greene's stories have entertained fans for decades and Our Man in Havana happens to be one of his most enthralling spy stories out of his entire bibliography.
Related: Ministry of Fear: 10 Graham Greene Mysteries and Thrillers You Need to Read
The Camel Club
If a series is more your style, David Baldacci's The Camel Club is the perfect option for you. Oliver Stone is the leader of the club who goes by a false name and is being watched by the government. The rest of the Camel Club is made up of Reuben Rhodes, Caleb Shaw, and Milton Farb. Together, they make up a team dedicated to uncovering the truth behind some of the most perplexing government conspiracies. With five books in total, Baldacci's The Camel Club will surely keep you company as you wait for No Time to Die to officially hit theaters.
The Moneypenny Diaries
Samantha Weinberg expertly crafted a riveting story about one of the most iconic Bond women, Miss Moneypenny. In her series The Moneypenny Diaries, Weinberg delves into her personal life while detailing the impact Bond had on her life. While the author ensures to fill in any and all gaps that may have been left in Ian Fleming's series, she also provides Miss Moneypenny with nuances to her character, making her a fully developed Bond girl. Light on the mystery, heavy on the spy's relationships, The Moneypenny Diaries are an entertaining collection that can be enjoyed by nearly every fan.
Related: 15 Romantic Thriller Books That'll Make Your Pulse Race
Berlin Game
Bernard Samson is a middle-aged Secret Intelligence Service member in Britain. A somewhat jaded spy, he finds himself on crucial missions aimed at keeping the world safe. Written by Len Deighton, Berlin Game may be as close to a James Bond replica as fans can get, but with a far more pompous attitude. While it seems like a clear cut spy novel, it expands into a thrilling mystery when Samson discovers that the people who he trusted the most may have been the people he should've trusted the least. If you find yourself at the end of Berlin Game wanting more from the spy, don't worry, Deighton transformed this novel into an entire series, which also includes a prequel.
Modesty Blaise
Peter O'Donnell's Modesty Blaise features a powerful woman who will stop at nothing to ensure the safety of the world. Following the titular character as she furthers her career as a spy, this 1965 novel is a classic. It has one of the most traditional crimes in the spy genre—a diamond heist—with the added excitement of a female spy who's on a mission to stop it from taking place. As Modesty Blaise and her partner Willie Garvin travel across the globe, they uncover a slew of dangers that also require their skill and expertise.
Related: 12 Thrilling Mystery Novels with Badass Female Protagonists
The Spy Who Came in from the Cold
If historical thrillers appeal to you, The Spy Who Came in from the Cold may be exactly what you're looking for. Written by John le Carré, the novel follows Alec Leamas who is sent to East Germany to falsely give up his allegiance to his country in order to gain favor with their intelligence officers. Set during the Cold War, The Spy Who Came in from the Cold is packed with historical symbolism, especially since it released during the height of the twentieth-century's tensions. With Alec Leamas going under cover, this spy adventure is sure to keep you on the edge of your seat.
Related: In from the Cold: 13 Thrilling Books for John le Carré Fans
A.K.A. Jane
When an English spy gets the opportunity to leave her work in the past, she takes it. A.K.A. Jane follows Jane Nichols as she travels to Georgia to pursue a career in writing, with the hopes that she's left her undercover work in the past. However, the life of a spy cannot escape her, and her location change comes with its own set of mysteries that require her to step out of hiding. Written by Maureen Tan, A.K.A. Jane is an enthralling spy mystery that offers a much different perspective than the traditional spy story. As Jane Nichols returns to her line of work, she discovers that the past can't really stay in the past.
The Day of the Jackal
Frederick Forsyth's The Day of the Jackal follows a professional assassin who is contracted out to take down the president of France. Split into four-parts, the novel follows a string of events that lead "The Jackal" to ensure that the leader of France is taken down as swiftly as humanly possible. The Day Of The Jackal is one of the most captivating reads, especially due to its ability to draw in audiences with assassins, spies, secret agents, special services, and a plethora of action packed scenes. For fans of blended spy stories, Forsyth's novel is the ideal candidate to keep you company as you wait for the latest James Bond movie to premiere.
Related: The Most Famous Christmas Mystery You've Never Read
There is never a shortage of spy novels, but these eight are some of the most enthralling works in the genre. They range from historically influenced tales all the way to stories about spies who want to abandon their career, only to discover that they can't. With two months of waiting ahead, it is the ideal time to dive into a new read before No Time to Die hits theaters on October 8, 2021.