Named for Edgar Allan Poe, the Edgars are an annual award ceremony put on by the Mystery Writers of America. It honors the best in mystery, non-fiction, and television published the previous year. Since its inception in 1946, it has expanded to include nine categories with four additional awards added to recognize short stories, mysteries with female protagonists, and best contemporary cozy mystery.
Here are the winners and nominees for the 2023 Edgar Awards.
Best Novel
Winner: Notes on an Execution by Danya Kukafka
Notes on an Execution
Ansel Packer doesn't want to die. It doesn't matter that he may deserve it, having brought death to innocent girls all those years ago. He wanted to be celebrated. Understood. Not put to death without either. But he isn't the only one trying to understand. Three women connected to Ansel also sift through his life, his choices, each act of destruction rippling out from tragedy. As the clock ticks down, so does their chance to finally find the clarity they all desperately need.
Nominees: Best Novel
Best First Novel by an American Author
Winner: Don't Know Tough by Eli Cranor
Don't Know Tough
Billy Lowe is a talented but volatile running back. His talent carries the high school football team, which makes his outbursts easier to overlook. Until he goes too far and ends up suspended. Now, the team has no hope of making the playoffs, a setback that should worry new head coach Trent Powers more than it does. But Coach Powers has more than the playoffs on his mind. He wants to save his soul. But when the source of Billy's anger, the man abusing him at home, is found dead, a violent chain reaction is set off. Billy may be the primary suspect, but the truth could potentially tear the entire town apart.
Nominees: Best First Novel by an American Author
Best Paperback Original
Winner: Or Else by Joe Hart
Or Else
The last thing novelist Andy Drake expects when he moves back home to take care of his father is to have an affair with his childhood friend. For Rachel, it's a reprieve from her emotionally abusive marriage. But when Andy receives a note warning him to end the affair, their worlds fall apart. Rachel's husband is found shot to death. Then Rachel and her two sons disappear. And the evidence doesn't look good for Andy. Desperate for answers, Andy discovers that nothing in their quiet neighborhood is what it seems. And whoever's responsible isn't done.
Nominees: Best Paperback Original
Best Fact Crime
Winner: Tell Me Everything: The Story of a Private Investigation by Erika Krouse
Tell Me Everything: The Story of a Private Investigation
When Erika Krouse is hired to investigate lawsuits, the job seems perfect for her. After all, she has one of those faces, the kind people confess things to. When she gets assigned to look into a sexual assault case, her personal history is a clear conflict. Deciding she can work with the lawyer to make a difference, she plunges into the investigation. After five years, the case escalates onto the national arena where both it and Krouse's life implode at the same time. Somehow, Krouse has to figure out how help win the case without losing herself in the process.
Nominees: Best Fact Crime
Best Critical/Biographical
Winner: The Life of Crime: Detecting the History of Mysteries and Their Creators by Martin Edwards
The Life of Crime: Detecting the History of Mysteries and Their Creators
As President of the Detection Club, archivist of the Crime Writers' Association, series consultant to the British Library's crime classics, and a multi-award-winning crime novelist, Martin Edwards knows crime. In this detailed history, Edwards explores the development and evolution of crime fiction novels, as well as the authors who penned them, dating back from the 18th century to today.
Nominees: Best Critical/Biographical
Best Short Story
Winner: "Red Flag," by Gregory Fallis in Alfred Hitchcock Mystery Magazine
"Red Flag," in Alfred Hitchcock's Mystery Magazine March-April 2022
After a man's life is ruined by a mass shooting, he moves back home to try and live a quiet life. But when he learns that a mother is afraid her alienated son might be planning something terrible he gets drawn into another terrible situation. Local law enforcement can't do anything—the boy hasn't broken any laws. With nothing but his own experience and a series of red flags, the man tries to come up with a way to prevent another tragedy from unfolding.
Nominees: Best Short Story
Best Juvenile
Winner: Aggie Morton Mystery Queen: The Seaside Corpse by Marthe Jocelyn
Aggie Morton, Mystery Queen: The Seaside Corpse
When young detective Aggie Morton and her friend Hector get to go to camp to watch paleontologists dig up fossils they are thrilled. It's even more exciting when the husband-wife team recover the fossilized bones of an ichthyosaur. And they aren't the only ones elated at the discovery. An American millionaire, a British museum, and a traveling circus all want the bones too. But everything changes when Aggie and Hector make a discovery of their own. A body washed up on shore. And it isn't a dinosaur.
Nominees: Best Juvenile
Best Young Adult
Winner: The Red Palace by June Hur
The Red Palace
In 1798, there aren't many options available to illegitimate daughters in the capital of Korea. But eighteen-year-old Hyeon has found one. Through hard work, she's earned her place as a palace nurse. All she wants is to keep her head down and win her estranged father's approval. It's a good plan. Until someone murders four women in a single night and the main suspect is Hyeon's friend and mentor.
She knows her teacher is innocent, but no one will listen. No one except young police inspector Eojin. But when her investigation hints that the Crown Prince is the murderer, it's going to take everything Hyeon and Eojin can muster to uncover the dark secrets hidden behind palace walls.
Nominees: Best Young Adult
Best Television Epsiode Teleplay
Winner: "Episode 1" – Magpie Murders, Written by Anthony Horowitz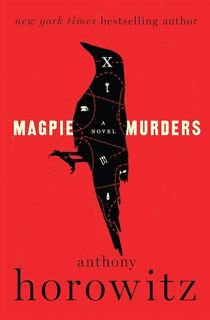 Based on the bestselling novel by British author Anthony Horowitz, episode one opens with crime writer Alan Conway finishing his latest novel. His editor is thrilled with his work. But when Conway suddenly dies, leaving nothing but a suicide note and an unfinished manuscript, Susan becomes the prime suspect.
Nominees: Best Television Epsiode Teleplay
Robert L. Fish Memorial Award
Winner: "Dogs in the Canyon" by Mark Harrison in Ellery Queen Mystery Magazine
"Dogs in the Canyon" in Ellery Queen Mystery Magazine, September-October 2022
When a man finds himself indebted to a violent gangster, he has no choice but to do what he says. That means tracking down a woman. But finding her was the easy part. Now, he has to decide what comes next.
The Simon & Schuster Mary Higgins Clark Award
Winner: A Dreadful Splendor by B.R. Myers
A Dreadful Splendor
Genevieve Timmons isn't really a threat. Not to anyone who isn't wealthy. Or mourning. But when one of her fake séances goes wrong, she finds herself in jail waiting to join the spirits she pretends to conjure. Until someone decides her talents could be put to good use.
A grieving nobleman is convinced his fiancé was murdered. And if Genevieve can create a haunting realistic enough to force the murderer out of hiding, she'll win her freedom. But for all her tricks, this is the one time they aren't needed. The manor is haunted. And if Genevieve wants to survive, she's going to have to find out exactly what happened the night of the murder.
Nominees: The Simon & Schuster Mary Higgins Clark Award
The G.P. Putnam's Sons Sue Grafton Memorial Award
Winner: Hideout by Louisa Luna
Hideout
Alice Vega's entire career is built on finding missing people before time runs out, but that was before Zeb Williams. He's been missing for over thirty years when he caught the ball in the tied Cal-Stanford football game. But instead of running for the game-winning touchdown, he ran the wrong way—through the marching band, off the field, and into obscurity.
Outside of bizarre sightings and a cult-like reputation, he was never seen again. Vega follows the trail to southern Oregon, where she finds a small town being assailed by a hate group. Everyone has something to hide and Vega has a talent for uncovering the truth. But this time, the truth might be more than even she can handle.
Nominees: The G.P. Putnam's Sons Sue Grafton Memorial Award
The Lilian Jackson Braun Memorial Award
Winner: Buried in a Good Book by Tamara Berry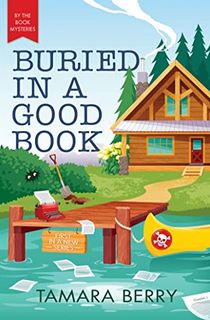 Buried in a Good Book
Bestselling thriller writer Tess Harrow is at the end of her rope. She's hoping time at her grandfather's rustic cabin will be the exact reprieve she and her teenage daughter Gertie need. But within minutes, an explosion sends fish guts—and a human arm—raining all around. It was hard enough convincing Gertie to spend a summer without WiFi. Now, she's in the middle of a murder investigation.
To make everything worse, the neighbors claim Bigfoot is running around and the sheriff looks exactly like one of her main characters. But if anyone knows about death and dismemberment, it's Tess. And she's determined to find the murderer before anyone else gets hurt.
Nominees: The Lilian Jackson Braun Memorial Award
Featured photo: Ezra Jeffrey-Comeau / Unsplash