This post from @indigenizingartsed on Instagram says, "a story is a gift from a creator." When authors share their worldview, experiences, and interior worlds in the form of the written word, it's an act of generosity, a gesture of connection. Every author gives us a glimpse into their perspective, background, and lived experience with each word they commit to the page. That's the gift of books—and also why it's so vital to read stories from a diverse range of authors: To fill in the gaps created by the individual limitations of our personal experiences.
Reading a wide range of stories from a broad array of writers deepens our understanding of the world we inhabit; it strengthens our awareness of the diversity of lived experiences and builds our capacity for empathy. The reader/writer relationship is one of reciprocity. The writer shares their story, and the reader receives and absorbs it—and transmutes what they've received through their own unique expression. Stories are both how we learn from each other, and how we evolve—and they have been, ever since those first stories told over fires so long ago.
November is Native American Heritage Month—and as is true for any month formally designated on a calendar as a time to celebrate a historically marginalized culture, ethnicity, gender, or sexual identity, a single month is not enough to contain the richness, diversity, challenges, inequities, triumphs, and joys experienced by any identity group. Despite these complexities, Native American Heritage Month can be a starting point—a time to listen, pay attention, learn more about modern Indigenous culture—and do better. And while we're at it, it's an excellent time to start (and then never, ever stop!) reading mystery and thriller books by Indigenous authors.
This list is not exhaustive, nor are these books meant to be read in November only. It's a sampling of some of the incredible talent among Native American authors intended to spur your curiosity, broaden your horizons, and further fuel your passion for reading mysteries and thrillers. So without further ado, here are seven mystery and thriller books by Indigenous authors to get you started on your lifelong journey to reading more Native American literature!
Winter Counts
This thriller follows a Native American vigilante named Virgil Wounded Horse, who is trying to find the source of a recent influx of heroin on the Rosebud Indian Reservation in South Dakota. When the heroin finds its way to Virgil's nephew, the stakes are raised—now this is personal. A winner of several awards, including Best First Novel in the Anthony Awards and the Thriller Awards, this heart-pounding novel will take your breath away and break your heart.
Evil Dead Center
An Ojibwa woman's sudden death just outside the Minnesota Red Earth Reservation is ruled a suicide, but Renee LaRoche suspects otherwise—especially after the woman's former lover comes back into town. In the process of her search she uncovers the terrible practices of the foster care system, forcing her to face the traumas of her own childhood and reckon with upsetting truths.
Death at Rainy Mountain
The day the Kiowa Nation gathered at Rainy Mountain to witness Cheyenne Robber—a man charged with the murder of a fellow tribesman—was a day Tay-bodal would not soon forget. This terrible event threatened the unity of the Kiowa Nation, but Tay-bodal (who always felt on the outside of his clan) has the opportunity to reunite his people by using his unconventional ways to learn the truth behind the murder. More than just learning the truth, Tay-bodal's journey proves to be compelling, spiritual—and life changing.
Anadarko
Set just after the violent race riot of 1921, Anadarko follows J.D. Daugherty—Irish former cop turned private investigator—and Hoolie Smith—Cherokee war veteran—as they investigate the strange disappearance of oilman and geologist Frank Shotz. What appears to be a simple missing persons case turns out to be ... not so simple, after all. The two soon find themselves caught in a web of murder, corruption, bigotry, and injustice—when the disappearance is linked with a group of bootleggers connected to the Ku Klux Klan. This gritty mystery grapples with racial prejudice through the lens of a tense and suspenseful tale.
Murder on the Red River
This riveting mystery follows Renee "Cash" Blackbear, a young Ojibwe woman, as she grapples with discomforting implications in the wake of a Native American stranger's cold-hearted murder. This murder illuminates the harsh realities of the foster care system and brings the oppression of Native American into harsh light for Renee. Set in the 1970s in Red River Valley, finding the men who killed this stranger will be a long, dangerous road.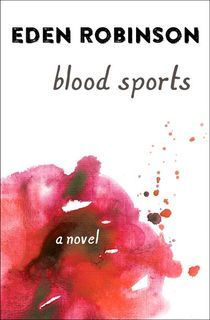 Blood Sports
Born on the same day as Edgar Allen Poe and Dolly Parton, Eden Robinson is convinced this unlikely combo is evident in her writing style. Tough, gritty, and addictive, Blood Sports follows cousins Tom and Jeremy, as well as Paulie—a junkie with two years clean. When everyone learns Tom has been talking to the police, men from the past with a lot on the line suddenly reappear and these three men find themselves as pawns in a game—with their whole lives at stake. With tension at an all time high from the first page to the last, this one is impossible to put down.
Deception on All Accounts
Sadie Walela is a blue-eyed Cherokee who has learned how to adapt to survive in the white man's world. But when her co-worker at Mercury Savings Bank is killed in a whirlwind robbery, Sadie finds herself a suspect. As this banker-turned-detective is about to find out—no one is as they seem. At this point, the only thing she can count on is deception, and she'll have to sort through all the lies to clear her name.
Feature image credit: audiobook cover of Murder on the Red River: The Cash Blackbear Mysteries, Book 1 by Marcie R. Rendon