This post from @indigenizingartsed on Instagram says, "a story is a gift from a creator." When authors share their worldviews, experiences, and interior worlds in the form of the written word, it's an act of generosity, a gesture of connection. Every author gives us a glimpse into their perspective, background, and lived experience with each word they commit to the page. That's the gift of books—and also why it's so vital to read stories from a diverse range of authors: To fill in the gaps created by the individual limitations of our personal experiences.
Reading a wide range of stories from a broad array of writers deepens our understanding of the world we inhabit; it strengthens our awareness of the diversity of lived experiences and builds our capacity for empathy. The reader/writer relationship is one of reciprocity. The writer shares their story, and the reader receives and absorbs it—and transmutes what they've received through their own unique expression. Stories are both how we learn from each other, and how we evolve—and they have been, ever since those first stories told over fires so long ago.
November is Native American Heritage Month—and as is true for any month formally designated on a calendar as a time to celebrate a historically marginalized culture, ethnicity, gender, or sexual identity, a single month is not enough to contain the richness, diversity, challenges, inequities, triumphs, and joys experienced by any identity group. Despite these complexities, Native American Heritage Month can be a starting point—a time to listen, pay attention, learn more about modern Indigenous culture—and do better. And while we're at it, it's an excellent time to start (and then never, ever stop!) reading mystery and thriller books by Indigenous authors.
This list is not exhaustive, nor are these books meant to be read in November only. It's a sampling of some of the incredible talent among Native American authors intended to spur your curiosity, broaden your horizons, and further fuel your passion for reading mysteries and thrillers. Enjoy these 12 mystery and thriller books by Indigenous authors to get you started on your lifelong journey to reading more books by Native American authors!
Shutter
An all-encompassing debut that is an equisite blend of crime thriller, supernatural horror, and coming-of-age story, Shutter follows forensic photographer Rita Todacheene, who is haunted by ghosts of crime victims that help her detect clues to obtain justice. But these pestering phantoms are what drove her from her grandmother's home on the Navajo reservation, where she grew up, and have gotten her into precarious situations with the law.
Now she finds herself forced to avenge a spirit murdered on a highway overpass, leading her straight to the most threatening cartels in Albuquerque. Intricately layered with gritty prose, this book will have you hooked from the first page.
The Removed
It's been 15 years since their teenage son, Ray-Ray, was killed in a police shooting, and the Echota family has not been coping well. Maria, the matriarch, has watched her family crumble over the years with her husband, Earnest, slowly succumbing to Alzheimer's, their daughter Sonja, who fixates on emotionally unavailable men, and their son Edgar, who tries to numb himself with drugs. Yet, Maria hopes that the family's annual bonfire will give her loved ones the opportunity to reconnect—after all, they will be coming together to celebrate the Cherokee National Holiday and reminisce about Ray-Ray.
But as the event nears, the lines between reality and the spiritual world begin to intermingle. A foster child seems to be helping Earnest recount memories; Sonja meets a man who has ties to her past lives; and Edgar, after a suicide attempt, is experiencing the mystifying Darkening Land, where the living and dead meld. Honoring Cherokee folklore, this novel tackles subjects surrounding grief, trauma and family by weaving together a story that mixes the real with the otherworldly.
Winter Counts
Having won various book awards, including the Thriller Award for Best First Novel, Winter Counts is about a local enforcer's quest for revenge on the Rosebud Indian Reservation. Virgil Wounded Horse is the man people call when the American legal system fails or the tribal council doesn't deal out the preferred level of justice. When Virgil's nephew is affected by the burgeoning heroin epidemic, Virgil enlists his ex-girlfriend to help him figure out a way to track who is responsible for bringing drugs into this community.
Meanwhile, drug cartels are expanding their influence and gaining formidable alliances, and the new tribal council initiative is raising unsettling questions concerning money and power. Will Virgil be able to take down these dangerous cartels before they claim more innocent victims?
Girl Gone Missing
Cash Blackbear just wants to be left alone. It's the 1970s, and she wants to focus on finishing her monotonous first year at Moorhead State College and pass the time playing pool, smoking and learning judo. Helping her guardian and friend, Sheriff Wheaton, try to find one of her missing classmates was never on her list of to-dos. But she feels like the dreams she's been having of horrified girls desperately pleading for her help might have something to do with the case.
And to make matters more stressful, her long-lost brother, who was separated from her when they were placed into foster care after being taken from the Ojibwe White Earth Reservation, has become her new houseguest. Before time runs out, Cash must figure out if she can uncover the missing girl's location and bring her safely home.
Mean Spirit
Native American government official Stace Red Hawk must investigate the murders of the Graycloud family and Grace Blanket, who was the richest person in Oklahoma after discovering oil beneath Native American land. A story filled with fraud, intimidation, and greed told through alternating perspectives with hints of magical realism makes for a riveting historical fiction read based on the true events of the Osage Tribe during the Oklahoma oil boom. It explores how far humans are willing to go to fulfill their insatiable materialism and need for power.
The Hatak Witches
One security guard is dead and another has been wounded at the Children's Museum of Science and History in Oklahoma. Detective Monique Blue Hawk and her partner Chris Pierson are called to investigate but determine no signs of the typical evidence that is usually left after a crime—no fingerprints, no footprints, and no signs of forced entry.
However, they do notice that a piece of a skeleton has been stolen, which is the remains of Hatak Haksi, a witch and mother of the Crow family. This shape-shifting family yearns to regain the prestige and power they once possessed. And they have a plan—retreat to Chalahwa Ranch and use the protection of the Old Ones, guardians of the Choctaw afterlife. By reimagining old tribal beliefs with a modern spin, author Devon Mihesuah creates a captivating supernatural mystery for readers to enjoy.
Evil Dead Center
An Ojibwa woman's sudden death just outside the Minnesota Red Earth Reservation is ruled a suicide, but Renee LaRoche suspects otherwise—especially after the woman's former lover comes back into town. In the process of her search she uncovers the terrible practices of the foster care system, forcing her to face the traumas of her own childhood and reckon with upsetting truths.
Death at Rainy Mountain
The day the Kiowa Nation gathered at Rainy Mountain to witness Cheyenne Robber—a man charged with the murder of a fellow tribesman—was a day Tay-bodal would not soon forget. This terrible event threatened the unity of the Kiowa Nation, but Tay-bodal (who always felt on the outside of his clan) has the opportunity to reunite his people by using his unconventional ways to learn the truth behind the murder. More than just learning the truth, Tay-bodal's journey proves to be compelling, spiritual—and life changing.
Anadarko
Set just after the violent race riot of 1921, Anadarko follows J.D. Daugherty—Irish former cop turned private investigator—and Hoolie Smith—Cherokee war veteran—as they investigate the strange disappearance of oilman and geologist Frank Shotz. What appears to be a simple missing persons case turns out to be ... not so simple, after all. The two soon find themselves caught in a web of murder, corruption, bigotry, and injustice—when the disappearance is linked with a group of bootleggers connected to the Ku Klux Klan. This gritty mystery grapples with racial prejudice through the lens of a tense and suspenseful tale.
Murder on the Red River
This riveting mystery follows Renee "Cash" Blackbear, a young Ojibwe woman, as she grapples with discomforting implications in the wake of a Native American stranger's cold-hearted murder. This murder illuminates the harsh realities of the foster care system and brings the oppression of Native American into harsh light for Renee. Set in the 1970s in Red River Valley, finding the men who killed this stranger will be a long, dangerous road.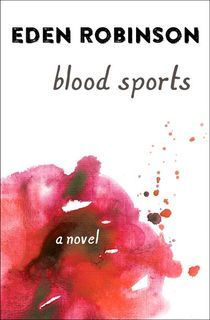 Blood Sports
Born on the same day as Edgar Allen Poe and Dolly Parton, Eden Robinson is convinced this unlikely combo is evident in her writing style. Tough, gritty, and addictive, Blood Sports follows cousins Tom and Jeremy, as well as Paulie—a junkie with two years clean. When everyone learns Tom has been talking to the police, men from the past with a lot on the line suddenly reappear and these three men find themselves as pawns in a game—with their whole lives at stake. With tension at an all time high from the first page to the last, this one is impossible to put down.
Deception on All Accounts
Sadie Walela is a blue-eyed Cherokee who has learned how to adapt to survive in the white man's world. But when her co-worker at Mercury Savings Bank is killed in a whirlwind robbery, Sadie finds herself a suspect. As this banker-turned-detective is about to find out—no one is as they seem. At this point, the only thing she can count on is deception, and she'll have to sort through all the lies to clear her name.
Feature image credit: audiobook cover of Murder on the Red River: The Cash Blackbear Mysteries, Book 1 by Marcie R. Rendon
Featured photo: Mladen Borisov / Unsplash