With Spring just around the corner, many of us have vacation on the brain. If you're a cozy mystery lover looking to escape to a beachier setting, then this is the series for you! Author Lynn Cahoon's Tourist Trap Mysteries are set in the coastal town of South Cove, California where bookstore and cafe owner Jill Gardner solves crimes alongside handsome Detective Greg King. With 13 books already published, the series is still going strong, so dive into these books for some California cozy capers.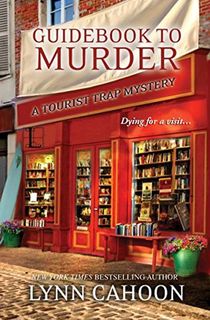 Guidebook to Murder
In the town of South Cove, California, Jill Gardner is the proud owner of the store Coffee, Books, and More. Jill's elderly friend Miss Emily has been battling the city council over her run-down old house for a long time. And when the woman suddenly dies, she leaves the property—and all the trouble that comes with it—to Jill. It turns out Miss Emily had a long list of enemies, and Jill suspects murder.
Determined to do right by her friend, Jill sets out to fix up the house and track down the killer. Luckily, she can rely on the gifted and handsome Detective Greg King if she needs help. But it turns out the culprit is aware of Jill's investigation—and will stop at nothing to make sure she never finds the truth.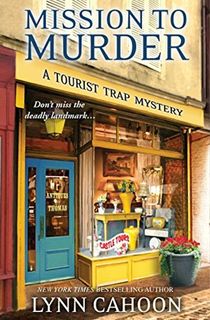 Mission to Murder
Jill is excited for a new chapter in Coffee, Books, and More's history when she learns that the old stone wall might actually be part of a mission from hundreds of years ago, which would make the property a historical landmark. The only thing standing in her way is Craig Morgan. Craig owns The Castle, a spot in South Cove only the tourists enjoy and has made it his mission to fight Jill's claim. The whole situation is irritating, but things get a lot worse when Craig is found murdered.
Immediately, suspicion turns toward Jill. Just before Craig died, he'd had a heated argument with Jill, and now even her boyfriend Greg can't rule her out just yet. It's up to Jill to unmask the real killer and clear her name. Unless the real killer gets to her first, that is.
Related: What Is a Bibliomystery?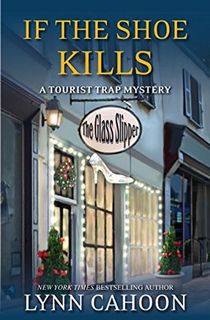 If the Shoe Kills
The holiday season always brings a boatload of tourists to South Cove, but this year, Jill has more on her plate than just handling big crowds of shoppers. The mayor has asked her to participate in a new work program, which proves to be a stressful gift that keeps on giving. Not only are most of her fellow business owners nervous that the interns will be rowdy punks but Ted Hendricks, the man in charge of the program, is a total jerk. And when Jill finds Ted dead in his car, things get a lot more complicated.
Greg and the rest of the South Cove police think it's a suicide, but Jill suspects murder. After all, Ted had more than a few enemies. On top of all of this, the city is facing a lawsuit from a spoiled woman who claims they're responsible for breaking her heel. If she wants South Cove to have a happy holiday season, Jill will have to act fast.
Related: The 13 Best Christmas Mystery Books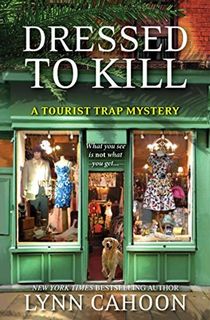 Dressed to Kill
When a local charity asks Jill to play the role of a roaring twenties flapper girl at a dinner theater murder mystery, she hesitantly accepts. Acting isn't really her thing, but she'll do it for charity. But the play becomes more like a documentary when one of her castmates is found dead at rehearsal.
To some, it seems like the most likely suspect is Sherry, the victim's girlfriend. Jill is certainly not her biggest fan either since she's Greg's ex-wife. But does that make her a killer? Jill will have to solve this mystery before the murderer makes anyone else take their final bow.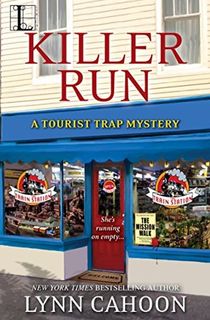 Killer Run
Coffee, Books, and More is set to be a sponsor for a 5k charity race benefitting South Cove's preservation society. The event seems like it's going to be a runaway success until a participant comes across a dead body. And not just any body, the victim is one of the promoters of the event.
All of South Cove is buzzing with rumors about who could have killed her, and suspect number one seems to be the woman's own husband. Wanting to clear his name, he turns to Jill for help. In order to track down the real killer, Jill will have to revisit the events of the day of the run, but with a killer hot on her trail, she'll have to move fast.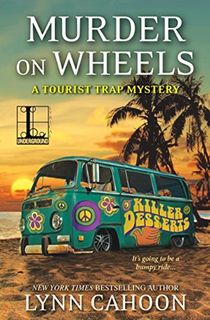 Murder on Wheels
Jill is somewhat skeptical of the popular new gluten-free dessert truck in town. Kacey Austin is friendly and driven, but she might be a little too ambitious. Her tasty recipes are suspiciously similar to Jill's best friend Sadie's, not to mention the fact that Kacey is now dating Sadie's ex-boyfriend. But everything comes to a grinding halt when Kacey is found dead on the beach.
Quickly, Sadie becomes suspect number one. She didn't exactly like Kacey, but Jill knows her best friend is not a killer. In order to clear her name, she'll have to follow the clues to find the real culprit.
Related: Where to Begin with Bestselling Cozy Mystery Author Joanne Fluke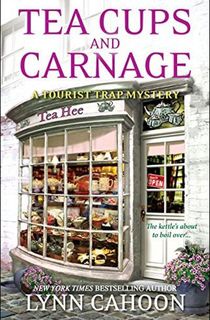 Tea Cups and Carnage
Kathi Corbin is certainly making a splash in South Cove. Her new tea shop is a smashing success, and she seems to have caught the eye of nearly every man in town. But Jill can't help but notice how nervous her fellow business owner gets when she learns that her sister Ivy has come to town. It seems like Kathi may have some secrets of her own.
In the midst of a major festival, a body turns up in a seedy motel. And questions arise when it turns out the victim has connections to Kathi. It's up to Jill to clear Kathi's name and discover the truth—before this case boils over.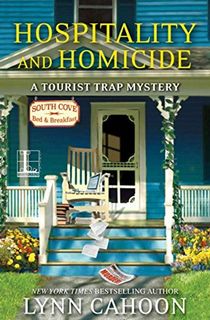 Hospitality and Homicide
As the owner of a bookstore, Jill is excited when mystery author Nathan Pike comes to South Cove to write his new novel. In his room at the South Cove Bed & Breakfast, he immerses himself in a new crime story. But murder flies off the page when another B&B owner is found dead in the exact same way as the victim in Nathan's draft.
The author is the obvious suspect and is quickly taken into custody. Though Jill is not entirely convinced of his guilt. But in order to prove Nathan's innocence, Jill will have to take on the role of the detectives in her favorite books and find the real killer.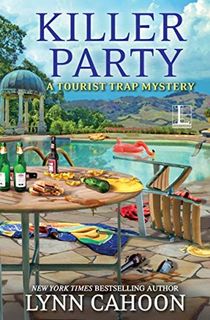 Killer Party
Jill and Greg are excited to be attending his college friend Levi's wedding at South Cove's nicest resort. Since Levi has made a fortune in the tech world, they're expecting a luxurious and fun weekend. But things take a dark turn when the groom's body is found floating in the pool.
Suddenly everyone is a suspect—from Levi's fiancée to his friends' gossipy wives, who disliked her standoffish attitude. No one can be ruled out just yet, not even Greg. Now Jill will have to dig for the truth and hopefully not find her relationship dead in the water in the process.
Memories and Murder
While Coffee, Books, and More hosts a talk on elder abuse, Jill can't help but think of her Aunt Jackie. She's always been fiercely independent, but everyone was shocked when she suddenly broke things off with her fiancé Harrold—and wouldn't say why. Now, Aunt Jackie has been the recipient of several mysterious phone calls. Jill suspects a scam, but her aunt claims she has it handled, although she clearly seems more shaken than she lets on.
Things get a lot more serious when a volunteer from the Senior Project is found murdered. Greg begins an investigation, but Jill has a hunch it's all connected to her aunt's phone calls. She'll have to find the truth—before the killer can dial M for murder again.
Murder in Waiting
To say Jill is busy right now is an understatement. Not only is she running Coffee, Books, and More, but she's serving as her friend Amy's maid-of-honor. She's doing her best to handle all of her duties and plan an unforgettable bachelorette party, but the wedding planning process has turned Amy into a bit of a bridezilla. On top of everything else, the South Cove Heritage Society has just rejected her historic landmark proposal.
With a land developer and a travel guide company breathing down her neck, Jill could use a friend. Luckily, she finds one in Heritage Society historian Frank Gleason. But when Frank is killed in a hit-and-run, Jill suspects more than an accident. It's now a race against time to find Frank's killer, all while still managing to get Amy down the aisle.
Related: 15 Romantic Thriller Books That'll Make Your Pulse Race
Picture Perfect Frame
Eager to support a new business in town, Jill and Greg attend a paint-and-sip class at South Cove's new art studio. Jill isn't exactly the next Picasso, but the night is going well—aside from the tourist couple who seems to be a little more focused on the alcohol. Still, everything smooths out once a designated driver takes them back to their B&B.
Until the next morning when the wife's body is found at the studio. Aside from her husband, no one in South Cove even knew the woman, so who would want her dead? Jill will have to dig through the woman's past to discover the deadly secrets beneath the surface.
Wedding Bell Blues
Specializing in wedding gowns and other custom dresses, Exquisite Gowns for You has opened at the perfect time—since Jill and Greg are getting married. Though Jill can't quite get used to the ring on her finger, she's ordered a dress from the new store for their engagement party. But party planning becomes the least of her worries when she finds a dead body in the shop.
As the investigation begins, store owner Harper Sanchez is certainly creating cause for suspicion. Greg insists that Jill leave the case to him, but she can't resist doing some digging of her own. But this time, Jill's sleuthing might be more dangerous than she expected.
Related: 9 Fun and Quirky Whodunits by Female Mystery Authors