Perhaps best known for his series of thrillers following FBI profiler Karen Vail, Alan Jacobson has written a wide variety of books, not to mention nonfiction and op-ed pieces in publications ranging from Suspense Magazine to Variety, The Strand, the New York Post, PBS, and many more. His thrillers are distinguished by their intense research, with Jacobson working closely with law enforcement personnel in order to get all the details right.
Related: Thriller Author Alan Jacobson Talks Life on a SWAT Team with a Veteran Lieutenant
The Karen Vail series began when Jacobson was auditing a class on blood spatter pattern analysis at the Criminalistics Institute of the California Department of Justice. There, he befriended an FBI agent who was being transferred to the behavioral analysis unit. Jacobson was later invited to visit the FBI Academy and profiling unit at Quantico, where he also met Supervisory Special Agent Mary Ellen O'Toole. She lent her perspective on what it was like to be a woman in a male-dominated field and helped bring the Karen Vail character to life.
The latest Karen Vail entry, Red Death, was released on September 15, 2020. With a puzzling investigation set in Hawaii, it promises to be Jacobson's most tense thriller yet. Along with Red Death and seven other Karen Vail books, Jacobson has also penned the popular OPSIG Team Black series and several standalone novels. All in all, the following 13 Alan Jacobson books are not to be missed by fans of taut mysteries and thrillers.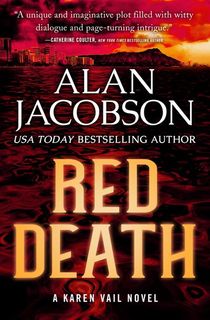 Red Death
A cold-blooded killer is lurking beneath the hot Hawaiian sun in the latest Karen Vail novel. As the profiler hops on a plane to visit the island paradise, she doesn't expect to encounter a killer whose modus operandi is so subtle that it's almost impossible to spot—a killer who may have claimed the lives of countless overlooked victims. Now, Vail has to put all her skills to work to track a killer with no apparent profile, who strikes when it is least expected.
Related: 13 New Mysteries and Thrillers We Can't Wait to Read This Fall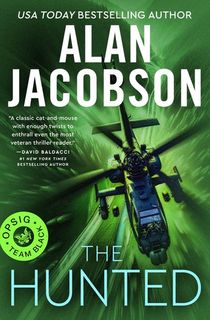 The Hunted
In the first of his OPSIG Team Black books, Jacobson introduces readers to Dr. Lauren Chambers, a brilliant psychologist who is recovering from agoraphobic depression when her husband—who has long been her rock—suddenly disappears. The hunt to find out what happened to him leads her on a road trip that will unearth new facts about the man she thought she knew. Chambers will also be pitted against a deadly assassin's vendetta in this novel that author David Baldacci called, "A classic cat-and-mouse with enough twists to enthrall even the most veteran thriller reader."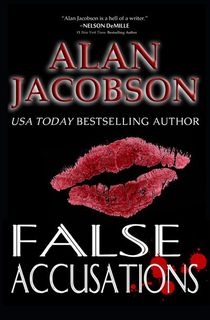 False Accusations
Before he created Karen Vail or the characters of OPSIG Team Black, Alan Jacobson burst onto the thriller scene with this bestselling standalone novel about an orthopedic surgeon accused of a deadly hit-and-run double homicide. The man's only hope for salvation lies in exposing the truth at the heart of a lie and facing a dangerous seductress bent on bringing him down, in this book that led CNN to call Jacobson "one of the brightest stars in the publishing industry."
Related: Gregg Olsen: 13 Gripping Thrillers by the #1 Bestselling Author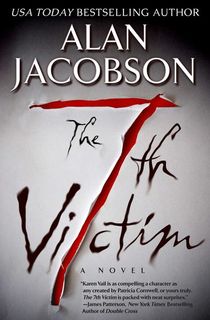 The 7th Victim
Author James Rollins called The 7th Victim "a quantum leap in terror and suspense," while the Library Journal named it one of the five best books of 2008. Here, Jacobson introduces readers to tough, uncompromising FBI profiler Karen Vail for the first time. Vail may be at the top of her game, but her life is also falling apart around her. She's trying to cope with her mother's decline due to Alzheimer's, while also engaged in a bitter custody battle with her abusive ex-husband. All the while, Vail is trying to track down a deadly serial killer who seems to know the FBI playbook back-to-front.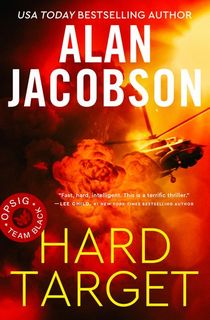 Hard Target
The members of OPSIG Team Black are back in this second spellbinding novel that author Lee Child called a "terrific thriller." When the president-elect's helicopter is rocked by an explosion on the night of the election, it kicks off a dangerous chain of events and exposes a plot more intricate than anything the FBI Joint Terrorism Task Force has ever faced before.
Related: Dive Into Trouble with the Best Mary Burton Thrillers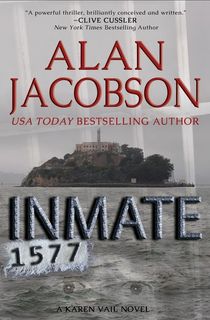 Inmate 1577
In his fourth Karen Vail novel, Jacobson brings historical writing into the mix as Vail and her colleagues track a brutal killer and rapist in San Francisco—a man whose motives and identity will lead them to one of the city's most famous landmarks, the island prison of Alcatraz. Bestselling author Clive Cussler called this twisty tale "a powerful thriller, brilliantly conceived and written."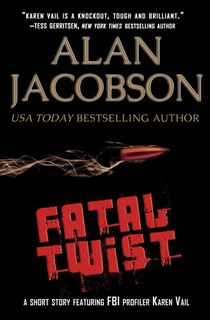 Fatal Twist
Originally published in The Strand Magazine, this short, sharp tale of FBI profiler Karen Vail gives readers a quick taste of Jacobson's writing that will leave them wanting more. As Vail tracks a rapist who has just added murder to his M.O. across Washington, D.C., she is set to cross paths with a military-trained sniper as the two seemingly-unrelated cases begin to dovetail in horrifying ways.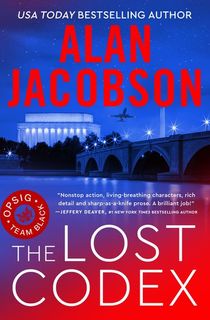 The Lost Codex
Karen Vail teams up with the members of OPSIG Team Black in this globe-spanning thriller that has been hailed as "a masterwork of international suspense" by author Douglas Preston. When ancient Biblical documents go missing, it could be the beginning of a vast terrorist plot that threatens numerous nations all over the globe. With tension mounting, a team of specialists travel from D.C. to New York, from Paris to England to Israel in search of the missing documents and the key to preserving world peace.
Related: Explore Joanne Fluke's Dark Side with Her Best Thriller and Suspense Books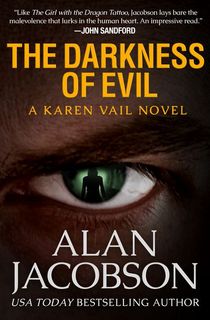 The Darkness of Evil
Roscoe Lee Marcks killed 14 people. And he might have gotten away with many more murders, if his teenage daughter Jasmine hadn't turned him in to the police. Now, an adult Jasmine has published a memoir about growing up as the daughter of a serial killer, and she has one reader who isn't happy. Her father has escaped from prison, and he plans to make Jasmine his next victim…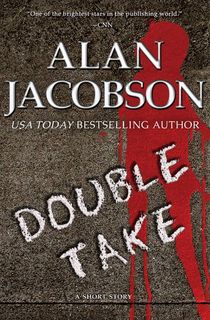 Double Take
NYPD detective Ben Dyer awakes from cancer surgery to find that his fiancée has gone missing—and only he can find out what happened to her—in this twisty, page-turning short thriller that serves as a perfect standalone slice of what Jacobson is capable of. Double Take is bound to act as a gateway into his other works for new fans.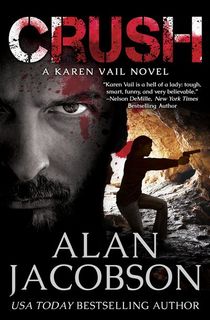 Crush
Publishers Weekly called this second Karen Vail novel "addictive" with a "shockeroo ending." As Vail travels to California's Napa Valley to track the so-called Crush Killer, who has been crushing his victims' windpipes and disposing of their bodies in caves, her presence emboldens the deadly killer. He sets into motion a plan that will shock the town, the team…and the reader!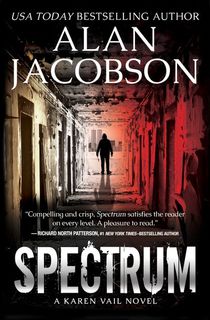 Spectrum
In his sixth Karen Vail novel, Jacobson explores the formative influences that shaped his most popular character into the tough, capable cop that readers have come to know and love. In 1995 New York, Vail was working her first investigation as a rookie cop, attempting to crack the case of a serial killer who came to be known as Hades. Years later, if there's one thing Vail knows how to do, it's catch killers. Yet that first one still haunts her—and he may be coming back with a vengeance…
Related: Bernard Schaffer: My Life as a Mystery Writer and Real-Life Criminal Investigator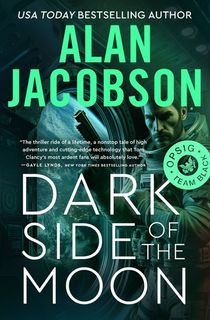 Dark Side of the Moon
Karen Vail and the members of OPSIG Team Black will have to do something they never imagined that their work would ask of them in the fourth OPSIG Team Black novel: they will undertake a mission that is literally out of this world. It seems that the Apollo 17 mission returned to Earth with more cargo than has been made public. In order to stop terrorists from using a weapon of mass destruction more powerful than anything the world has ever seen, the members of OPSIG Team Black will have to leave the world on a mission to the surface of the moon.
Related: Author Alan Jacobson Explores the Dark Side of the Moon
This post is sponsored by Open Road Media. Thank you for supporting our partners, who make it possible for Murder & Mayhem to continue publishing the mystery stories you love.