William Shakespeare died over 400 years ago. Yet the plays of the Immortal Bard continue to provide inspiration for moviemakers, screenwriters and, of course, mystery authors. Some have borrowed phrases from his plays for titles—such as Agatha Christie's Taken at the Flood, lifted from a speech in Julius Caesar—others, such as Dorothy L Sayers, were so steeped in the Elizabethan playwright's work that his lines and phrases pop up in their books almost subconsciously. Many more have written tales based around his work. Here are a few of the best.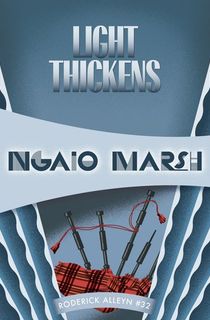 Light Thickens
New Zealand's Queen of Crime Ngaio Marsh shared a birthday with Shakespeare along with his passion for theatre. Light Thickens is the 32nd and final mystery featuring her cultured and intelligent detective Roderick Alleyne and sees him returning to the Dolphin Theatre (setting for the earlier novel Death at the Dolphin) where a production of Macbeth has ended with "murder most foul", the actor playing the title role having—literally—lost his head during the rehearsal of the climactic fight scene with MacDuff. Marsh had directed a production of "The Scots Play" in New Zealand and her book is as gory and dramatic as the play at its center and peppered with Shakespearean and theatrical lore.
The Daughter of Time
Was King Richard III really a cunning and murderous sociopath who killed two young princes to tighten his grip on power, or was Shakespeare's play about the 15th Century monarch simply the propaganda of his victorious enemies the Tudors? That's the question bed-ridden Scotland Yard detective Alan Grant sets out to answer in Josephine Tey's justly celebrated 1951 mystery. With the help of a glamorous London stage actress and a sharp-witted American researcher at the British Museum, Grant reaches back in time to the 1480s and digs up the facts that lie buried beneath five centuries of misinformation, much of it originating from the playwright from Stratford-upon-Avon.
Hamlet, Revenge!
The pseudonym of Oxford University professor J.I.M Stewart, Innes is one of the forgotten figures from England's Golden Age of Crime Writing. He's definitely worthy of rediscovery for novels like this one from 1937 featuring his academic sleuth Sir John Appleby, a Scotland Yard chief inspector with a passion for literature. Hamlet, Revenge! is set against the classic backdrop of a party at an English country house and follows the murderous events surrounding an amateur production of Hamlet during which the Lord Chancellor of England is killed while playing the part of Polonius. Innes' tale is clever, funny, and filled with convoluted twists and literary references.
The Quality of Mercy
Kellerman is best known for her contemporary Los Angeles-set detective novels featuring Peter Decker, but in The Quality of Mercy, she steps back in time to take readers on an entertaining romp through Elizabethan London. The plot sees Rebecca Lopez, the daughter of a Jewish physician, escape from an arranged marriage by fleeing—naturally enough since this is Shakespeare's England—disguised as a boy. She soon meets up with a headstrong young playwright named… William Shakespeare. The mismatched couple finds themselves investigating dark deeds surrounding the court of Queen Elizabeth where spies and conspiracies bubble like a witch's cauldron. There are twists and turns aplenty and enough romantic spark between the pair to suggest that Rebecca might just be the mysterious "Dark Lady" of Shakespeare's love sonnets.
Related: Mysteries in Indian Country: 12 Authors for Tony Hillerman Fans
Macbeth
The king of Scandi-Noir takes "The Scots Play" and transplants the medieval Macbeth, Thane of Cawdor to a grim and lawless modern city in Northern Europe, turning him from an ambitious nobleman to a tough and popular head of the local SWAT unit. Jo Nesbo's Macbeth still has a thing for daggers and his ambitious—and likely murderous—gaze firmly fixed on the role of chief commissioner of police. Stir in a flame-haired femme fatale, three drug-dealing biker girls, spectral hallucinations, and a whole lot of foul and filthy weather—and you have the makings of a modern crime masterpiece.
Something Rotten
Set in the town of Denmark, Tennessee where a paper factory is polluting the Copenhagen River, Something Rotten features high school junior turned sleuth Horatio Wilkes who finds himself investigating the poisoning of his friend Hamilton's father. Was it murder? And, if so, could Hamilton's uncle Claude be responsible? Gratz's novel offers a hard-boiled Chandleresque take on Hamlet that—with its style and setting—calls to mind the 2005 Joseph Gordon-Levitt movie Brick. Like its sequel Something Wicked, which does a similar job on Macbeth, Something Rotten is aimed at young adults but there's enough wit and intrigue to draw in grown-ups, too.
Interred With Their Bones
Carrell's novels featuring theatrical director turned detective Kate Stanley are based around Shakespeare plays. In this, the first in the series, Stanley finds herself at London's Globe Theatre directing a production of Hamlet. On opening night Stanley's mentor, Harvard professor Roz Howard, presents her with a mysterious box. Shortly afterward Howard is found murdered in exactly the same way as Hamlet's father (poison poured into the ear) and the Globe itself is in flames. Soon the bodies are piling up, all killed using Shakespearean methods, and Kate is piecing together the clues in the box, which lead her to some startling discoveries about The Bard himself.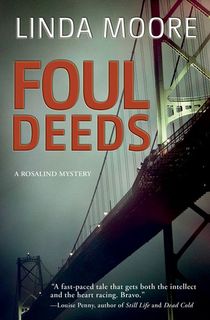 Foul Deeds
Canadian theatre director Moore conjures up a dramatic tempest in her first novel featuring Halifax, Nova Scotia, criminologist Rosalind. Ros is taking part in an amateur production of Hamlet when Peter King, a leading environmental lawyer is found poisoned. King's son immediately calls foul play, and soon Rosalind and her grumpy employer PI McBride find themselves wading knee-deep through a conspiracy of murder, lies, and deceit that would make Shakespeare's King Claudius blush with shame.