Our days in quarantine continue, and many of us are feeling restless and stir-crazy. Of course, there are plenty of things to do—good mystery board games to play and mystery movies to watch—to keep us occupied during social distancing. Yet as the days drag on, you may be in search of thrilling reads that will keep your sleuthing skills sharp. So why not shake things up by cracking open Nero Blanc's engaging cozy crossword puzzle mysteries?
The Crossword Mysteries series follows crossword editor Belle Graham and her private investigator husband, Rosco Polycrates. Word puzzles play an integral role in the narratives; each book includes solvable crossword puzzles, available as downloadable PDFs, that ties into the mystery at hand. As Belle and Rosco solve mysteries on the page, you can jump into your own collection of puzzles and feel like you're part of the action!
The incorporation of crossword puzzles stems from the genuine affection the author has for the word games—or should we say, authors. Nero Blanc is a pseudonym for husband and wife writing team, Steve Zettler and Cordelia Frances Biddle. Fascinated by the prospect of writing collaboratively, the couple devised their alias by using "Nero," the Italian word for black, and "Blanc," the French word for white. Black and white: the familiar color scheme of crossword puzzles.
In addition to the Crossword Mysteries they produce together, Steve Zettler and Cordelia Frances Biddle pen their own individual mysteries in distinct styles. Zettler is known for his more maturely themed international thrillers. Thus far he's published two books in the Joe Bradlee series, and . Zettler has also written the novel , which was based on the Robert de Niro , and —both of which are available to read for free on the author's website.
Cordelia Frances Biddle is a force of nature in the historical mystery genre. She's best known for her Martha Beale series, which sets out to explore the economic divide during the tumultuous times of 1840s Philadelphia. Readers may also be interested in her debut novel , centered on imperialism in 1903, or her keenly detailed recount of a Gilded Age luminary in .
Together, Zettler and Biddle have developed a unique and charming mystery series that can be read in any order. For the best of the best, check out our favorite Nero Blanc mysteries below—and get your pen ready.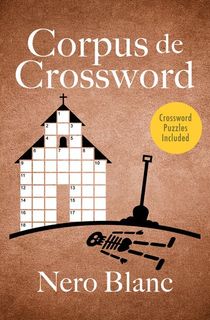 Corpus de Crossword
When a developer buys an iconic homestead in a Massachusetts hamlet, the residents are outraged. But construction drags to a halt when the skeleton of a woman is discovered buried on the grounds. When Belle Graham and her P.I. husband are hired to figure out the whos and whys of this Jane Doe murder, they quickly find that the locals aren't too keen to share info with outsiders. But when this mystery grows into arson and double homicide, Belle and Rosco may be in more danger than they bargained for.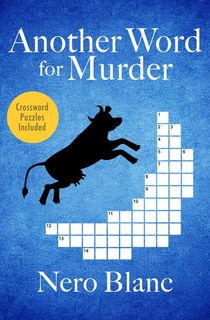 Another Word for Murder
Belle is on a delightful stroll with her new friend Kate Tacete when everything goes wrong. Kate's husband, a beloved dentist, vanishes, and in his place is an ominous ransom note. Belle and Rosco hop on the case, but soon a simple kidnapping escalates to murder. Could the key to the whole thing be in the strange nursery rhyme-themed crosswords Belle has been receiving?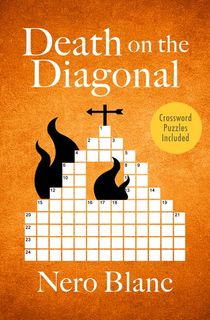 Death on the Diagonal
The trouble starts when Belle hears from the Evening Crier's gossip columnist that one of the stables at King Wenstarin Farms has been burned to the ground. The property belongs to the Collins family, known for their past in prohibition bootlegging. The 74-year old patriarch is married to a much younger woman, and the rest of the family is bogged down by infighting. But what will Belle and Rosco discover about the case when a suspected arson turns to a brutal murder?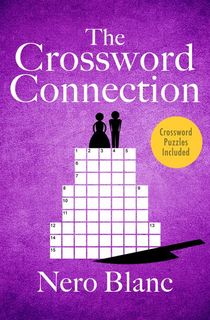 The Crossword Connection
When a dead homeless man is discovered in an alley, what may typically be brushed off as a victim of a turf war turns into an investigation into a sinister developer plot. Rosco and Belle are hired to track down the recently adopted dog of the John Doe—an assignment that takes up much needed time in the lead up to the couple's nuptials. But when a second murder rocks the town, it puts things into perspective. When Rosco suddenly goes missing himself, it's up to Belle to follow the clues before he becomes the next murder victim.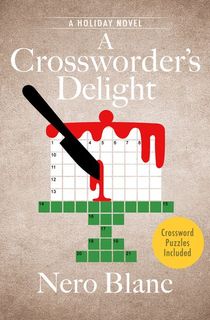 A Crossworder's Delight
During The Holiday Decoration Competition, Belle discovers an old treasure—a crossword formatted book of recipes passed on from mother to daughter. But as Belle sets out to crack the secrets of delicious treats, a valuable poem has been stolen from the Paul Revere Inn. When Rosco is called in to investigate, he finds himself gaining the aid of the clever 12-year-old E.T. Whitman. As the three sleuths dig deeper into the case, they find themselves getting close to a long-forgotten truth.