Since 1981, Martha Grimes has been delighting readers with her Richard Jury mysteries. When readers first meet Jury, he is a chief inspector for Scotland Yard. In his 25—and counting!—adventures, Jury is usually assisted by a colorful cast of recurring characters that includes the former British noble Melrose Plant, hypochondriac Sergeant Alfred Wiggins, and constable Brian Macalvie. Each book in the series is named after a pub or bar that in some way features in the mystery.
What makes the Richard Jury mysteries—and all of Martha Grimes' works—so enticing for mystery readers is the combination of humor, wit, and likable characters with a genuinely intriguing mystery. Many reviewers over the years have compared Grimes to the greats of the Golden Age of Detective Fiction and there's certainly a reason for that. The New York Times bestselling series has been running for over 40 years now, and if you aren't familiar with Richard Jury and his crew, now is the perfect time to start.
For your convenience, we've compiled Martha Grimes' Richard Jury books in order below!
The Man With a Load of Mischief
When a stranger was found dead in the cellar of the Man With a Load of Mischief pub, the small town of Long Piddleton was thrown into disarray. But when the body of a second victim is discovered gruesomely displayed above the sign for the Jack and Hammer, fear really begins to set in. Now, Detective Chief Inspector Richard Jury of Scotland Yard is on the case.
It seems that everyone in Long Piddleton assumes that the killer is from out of town, but Melrose Plant, a former noble who has renounced his titles, thinks otherwise. He's skilled at reading people, and, as he tells Jury, there are a lot of secrets lying just beneath the surface of this idyllic village.
Related: 10 Underrated British Mystery Books to Add to Your Bookshelf Now
The Old Fox Deceived
When Inspector Jury and Plant are called to the small Yorkshire fishing village of Rackmoor, mysteries abound. The murder is bizarre, Rackmoor has its own share of secrets, and no one is even sure of who the victim is. It's up to Richard Jury to determine if the beautiful woman is the deceitful Gemma Temple or if she could be Dillys March, the former ward of Colonel Titus Crael who hasn't been seen in eight years. Why has she returned now? And who would want her dead?
Related: 9 British Mystery Books That Even the Most Dedicated Sleuths Haven't Read
The Anodyne Necklace
In the village of Littlebourne, a severed finger is discovered that seems to belong to a dead body recently discovered by a bird watcher. No one recognizes the victim, but that's never stopped Richard Jury before. Littlebourne is still reeling from the death of a local noble, whose valuable emerald was stolen just before he died, leaving his widow without a penny to her name. When Jury learns of a woman from the village who was attacked in London, he has a feeling all of these crimes may just be connected.
The Dirty Duck
In William Shakespeare's home of Stratford, American Gwendolyn Bracegirdle leaves a performance of As You Like It for a few drinks at the local pub, The Dirty Duck. Minutes after she finishes her first drink, she is brutally murdered. All that the killer leaves behind is two lines of poetic verse written on a theater program. Richard Jury just happens to be on a brief holiday to Stratford when he learns of the murder...and of the mysterious killer who seems to be hunting wealthy American tourists.
Jerusalem Inn
At Christmas, Richard Jury and Melrose Plant stumble upon two equally mysterious murders. After Jury meets a beautiful woman in a graveyard, he's stunned to learn that she has been murdered. Meanwhile, Plant attends a party at the stately manor of Spinney Abbey with several fellow artistically-minded nobles and soon stumbles upon the corpse of a woman. Near Spinney Abbey is the Jerusalem Inn, an unassuming pub that may just hold the answers Jury and Plant are looking for.
The Deer Leap
The bizarre case of animals dying all over the village of Ashdown Dean makes for good dinner party conversation, but it's hardly worth calling Superintendent Jury of Scotland Yard for. However, Polly Praed, mystery writer—and friend of Melrose Plantz—believes more is going on. And when Polly finds a dead body shoved into a call box, it becomes clear that this case isn't just for the birds.
Related: 11 Authors Like Agatha Christie
Help the Poor Struggler
When Richard Jury arrives in Dartmoor, the residents are still reeling from the murders of three children. Assisting Jury is Brian Macalvie, the local constable. Their investigation quickly leads them to the home of 10-year-old heiress Lady Jessica, who has lived with her uncle and a slew of governesses since the death of her parents. Something bizarre and evil is haunting the bleak landscape of Dartmoor, and a ghost from Macalvie's past may just be the key Jury needs to solve the murders if the killer doesn't strike again before he can put the pieces together.
I Am the Only Running Footman
I Am the Only Running Footman is a pub situated in London's trendy Mayfair District, but tonight it is the scene of a crime. When a body is discovered just outside the pub, Richard Jury is called in to investigate. When he discusses the case with his collaborators, constable Brian Macalvie sees a connection between the killing and the murder of a hitchhiker back home in Devon one year earlier. She too, just like the victim at the pub, was strangled with her own scarf. Now, Jury and Macalvie, along with Melrose Plant and Jury's hypochondriac assistant Sergeant Wiggins, journey to the village of Somers Abbas to see if these two similar murders lead to the same killer.
The Five Bells and Bladebone
Marshall Trueblood is furious when a dismembered corpse is found in his newly-bought antique writing bureau. The victim is Simon Lean, nephew of Lady Summerston. Simon was known to be greedy, but no one thinks that seems worth killing him over. But Richard Jury has a sneaking suspicion it's all related to Sadie Driver, who was recently found dead near Wapping Old Stairs...that is if the body really was Sadie.
Related: 14 Charmingly Meta Bibliomystery Books You Haven't Read Yet
The Old Silent
In the West Yorkshire Inn The Old Silent, Richard Jury witnesses a murder. He saw the lovely Nell Healey shoot her husband, but he has a feeling there's more to the story than that. Jury is ready to help her, but she won't speak a word. He calls on Melrose Plant for help, but they quickly learn that Nell's silence isn't just to hide the reality of the murder, but a lifetime's worth of secrets.
The Old Contemptibles
Soon after Richard Jury's passionate but tumultuous affair with widow Jane Holdsworth ends, she is found dead. Now, while he is being held as a suspect in her murder, Jury sends Melrose Plant to investigate. Posing as a librarian, Plant infiltrates the Holdsworth estate in the Lake District and discovers decades of unanswered questions about Jane's husband Crabbe and the mysterious disappearances of his first wife, their son Graham, and Annie, the cook. And what will happen to Jane and Crabbe's children?
When Plant presents his findings to Jury and Sergeant Wiggins, they reach an unfortunate conclusion. No matter what Jury does, the truth of this murder will put innocent people in danger.
The Horse You Came In On
When Richard Jury's acquaintance Lady Cray asks him to investigate the murder of her friend's nephew in America, he travels to Baltimore, Maryland with Melrose Plant and Seargeant Wiggins in tow. There, they discover that Philip Calvert's death may be connected to other recent killings. The trio is soon caught up in a larger mystery that involves the genealogy of Baltimore's oldest families and a supposedly long-lost Edgar Allan Poe manuscript. The answers to all their questions may just be at a unique local bar.
Rainbow's End
No one thinks much of the three women who died of natural causes in London and the West Country, after all, the women had no connection at all. But Richard Jury still has his suspicions, and this time, his investigation leads him all the way to Santa Fe, New Mexico. While Melrose Plant keeps track of things in London, Jury searches for clues with a 13-year-old and her pet coyote. But he'll soon discover that the Southwest's picturesque landscape is hiding secrets that some would be willing to kill for.
The Case Has Altered
Richard Jury's latest case—a double murder—takes him to the remote terrain of Lincolnshire, where both victims were connected to the Fengate estate. Dorcas Reese was a servant and Verna Dunn was once married to Fengate's owner Max Owen. When suspicion turns to Jenny Kennington, who Jury has always carried a torch for, he knows that he'll do anything to clear her name. He just needs to get someone on the inside at Fengate who can appeal to Max Owen's love for antiques.
The Stargazey
When a mysterious blonde woman keeps leaving and re-boarding the bus Richard Jury is riding, he's intrigued. The final time she leaves, he follows her all the way to the gates of Fulham Palace and then decides to leave. He would not have thought much of it later until he learns of a death in Fulham's walled garden. Was the victim that same blonde woman? Could he have prevented a murder if he'd just continued to follow her?
Even though he hasn't been assigned to the case, Jury can't help but investigate. But as the mystery takes him and Melrose Plant from the East End into the world of art dealerships, Jury wonders if this case may be too much to handle.
The Lamorna Wink
Melrose Plant is bored. Usually, he'd be able to count on his good friend Richard Jury to use as an excuse to get away from his grating Aunt Agatha, but he's still tied up with a case in Northern Ireland. So instead, he decides to rent a house for a few months in Cornwall. Except this house has a tragic history involving the unsolved deaths of two children.
Although he intends for his trip to be a relaxing holiday, Plant can't help wanting to know more about the house's previous residents and the mystery of the children's deaths. But when a local woman goes missing and another is found murdered, it becomes clear that there is more going on in Cornwall than Plant originally thought. Now it's up to him to solve these multiple mysteries...if they don't consume him first.
The Blue Last
In December 1940, the pub known as The Blue Last collapsed to the ground during another deadly bombing raid. Now, as experts excavate the site, they come across two skeletons. Detective Chief Inspector of the London Police Mickey Haggerty believes the bodies prove that the grandchild of the wealthy Oliver Tyndale didn't actually survive the bombing and that someone who did survive has been pretending to be her for the past 50 years. To make matters even more complicated, Simon Croft, a financial broker and the son of The Blue Last's owner, has been murdered and his draft of a book on London during the blitz has been stolen.
It's a lot to handle, so Haggerty calls on Richard Jury for help. He sends Melrose Plant into Tyndale Lodge undercover. But as Jury investigates, he'll have to face his memories of the war that robbed him of his childhood and face off against a killer that will do anything to make sure the past stays buried.
The Grave Maurice
While recovering in the hospital, Richard Jury is happy to hear the strange story Melrose Plant overheard at The Grave Maurice, a nearby pub. Over a year ago, Nell Ryder, granddaughter of the owner of the Ryder Stud Farm, went missing. She's never been seen since. But what is especially interesting is that Nell Ryder is also Jury's surgeon's daughter.
When the same woman Plant overheard the story from is found dead at the Ryder farm, things get interesting. The Ryders don't recognize her, and they quickly begin working with Jury, Plant, and the local police to solve the mystery that they hope will lead to finding Nell again.
The Winds of Change
It all begins when a five-year-old girl is shot in London. Richard Jury, along with New Scotland Yard pedophile unit head Johnny Blakeley, launches an investigation. Blakeley thinks the culprit could be Viktor Baumann, a sick individual who he's had his eye on for years. Another murder soon occurs at Melrose Plant's new place of work as a gardener, the estate of Declan Scott, whose four-year-old stepdaughter Flora was kidnapped three years ago.
Sensing a connection, Jury, Blakeley, Plant, and commander of the Devon and Cornwall police Brian Macalvie begin an investigation. It turns out Viktor Baumann was Flora's biological father. But does that make him the kidnapper? And in a case with so many twists and turns, can Jury trust any of his own conclusions?
The Old Wine Shades
One night, as Richard Jury sits in a pub in London, a stranger sits down next to him and begins telling him a story. It takes three nights in total for Harry Johnson to finish the tale, but he certainly keeps Jury's attention. Apparently, nine months ago, Harry's good friend Hugh's wife, son, and dog all disappeared while at a house viewing in Surrey. Only the dog ever came back.
Harry swears his story is true, and Jury has to investigate. It seems that everything really is as he described it...until the dead body appears.
Dust
The last place anyone saw wealthy aging bachelor Billy Maples alive was Dust, a London club. Sometime after he left, he was murdered in the upscale hotel he was staying at. Now, Richard Jury is on the case and while he investigates Maples' friends, family, and life in London's trendiest spots, he sends Melrose Plant to Rye, where Maples was the caretaker of the author Henry James' house. But this investigation is proving more difficult than usual thanks to the hotheaded—and beautiful—Lu Aguilar, the chief inspecting officer on the case.
While trying to avoid Aguliar, Jury, and Plant discover that this old playboy had more than a few things to hide.
The Black Cat
Richard Jury's latest assignment concerns a shooting outside The Black Cat pub in High Wycombe, Buckinghamshire. The victim, a woman, appears to have been a professional escort. Jury's biggest problem is the fact that the only witness is a black cat who happened to be slinking by. As the body count begins to rise, it's up to Jury to track down a killer, all while dealing with his guilt about the accident that put Lu Aguilar in a coma.
Related: 10 Quirky Animal Cozies for the Pet-Loving Mystery Reader
Vertigo 42
In Vertigo 42, a bar in an office building in London's financial district, Tom Williamson tells Richard Jury that his wife was murdered. 17 years ago, the inspector in charge claimed that Tess' death was the direct result of her vertigo, nothing but an accident, though the case technically remains open.
Jury agrees to take the case, and soon learns that five years before Tess died, a nine-year-old girl also fell to her death in the same location. The girl died at a party, and Jury quickly tracks down the other guests, hoping that they'll be able to shed some light on this old case. But when more people start dying, Jury and Sergeant Wiggins will have to race against time to find the killer...and to keep themselves alive.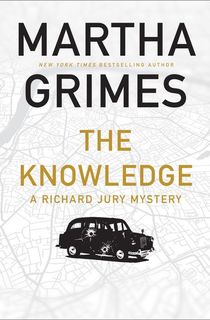 The Knowledge
One night, a man committed a crime right in front of the Artemis Club, London's resident combination art gallery and casino, and then hijacked a passing cab to get away. As he escapes to Nairobi, Richard Jury begins investigating. After speaking with one of his victims, an astrophysics professor, and gambling enthusiast, Jury recruits several of his most trusted collaborators to help him take on the case. The clues will lead them from a London pub known only to the city's best cabbies to the gem mines of Tanzania to a long-forgotten casino in Reno, Nevada as they chase their most elusive culprit yet.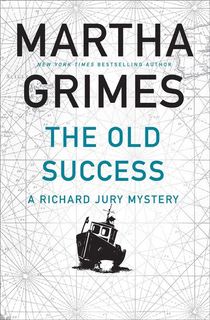 The Old Success
One day, Richard Jury finds himself sitting in The Old Success pub in Land's End speaking with living legend Tom Brownell, who is famous for having solved every case he was assigned while working as a detective. Well, all but one, as Brownell clarifies. Meanwhile, Brian Macalvie is called in when the body of a French woman is discovered off the Cornish coast.
When two more murders draw Jury into the investigation, he and Macalvie turn to Brownell. Although the murders don't seem to be related in any way, the veteran detective insists that they're connected. He agrees to assist them in their investigation, and Jury and Macalvie will just have to hope that Brownell's record of success will continue.