If you're a fan of Golden Age Detective Fiction authors like Agatha Christie, John Dickson Carr, and Dorothy L. Sayers, then you'll love the works of Elizabeth Daly. Although she wrote a bit after the Golden Age came to an end, she's certainly earned her spot among the greats. She's even said to have been Agatha Christie's favorite American author. We don't think anyone could wish for higher praise than that!
Between 1940 and 1951, she wrote her classic Henry Gamadge Mysteries. An antiquarian bookseller and handwriting expert by day, Gamadge uses his knowledge of literature and old books as well as his natural intellect to solve murders and other mysteries. Not only does Daly craft fascinating mysteries in her books, but they also offer an immersive glimpse into 1940s New York. We guarantee that once you start this series, you won't be able to stop.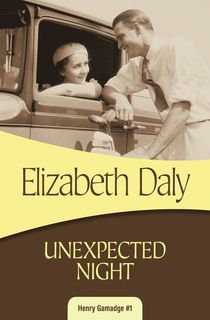 Unexpected Night
The series opener finds Gamadge staying at a coastal resort in Maine. His vacation is suddenly interrupted when the local police ask for his help. When a sickly young man who was due to inherit a vast fortune dies, only a few people wonder if foul play could have been involved. But when actors from the local summer stock troupe start dying off too, it's clear something nefarious is going on.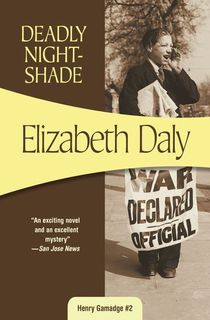 Deadly Nightshade
Henry Gamadge is always willing to help a friend, so when Detective Mitchell calls him back to Maine to assist with a case, he accepts. With the United States on the brink of entry into World War II, everyone is a bit on edge, but this small town is dealing with more than most people. Three children have been killed with poisonous nightshade, and the only thing connecting the victims is that they all live in the same town. With a group of travelers camped outside the town and the mysterious death of a state trooper looming over everything, Gamadge will have to put the pieces together to stop the killer.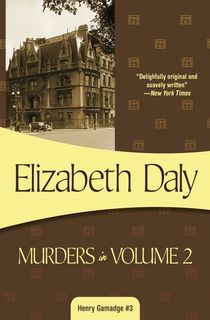 Murders in Volume 2
A century ago, the Vauregard household was rocked when one of their guests disappeared into thin air along with the second volume of the works of Lord Byron. It was always a bizarre tale, but things take an unbelievable turn when that same woman and the book suddenly reappear, not having aged at all. She claims that she had been stuck on the astral plane the entire time, but the elderly Mr. Vauregard's niece is skeptical. Luckily, she knows just the man to call.
Not only is Gamadge a top sleuth, but he's an expert in rare books and just well-bred enough to associate with the illustrious Vauregards. But as he begins his investigation, he discovers that this old money family may have more than a few skeletons in their closet.
Related: 14 Charmingly Meta Bibliomystery Books You Haven't Read Yet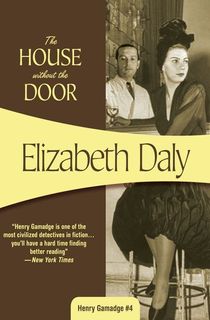 The House without the Door
Ever since her husband was murdered, Vina Gregson has lived a sheltered life, only leaving her New York apartment to stay at her home in Connecticut. Although she was found innocent, her high-profile murder trial left many convinced she was a killer. She's no stranger to harassment, but a recent string of threatening letters has her concerned. She believes the sender is her husband's killer.
Not wanting to alert the public by going to the police, she enlists the help of Gamadge. She knows he will be discreet and hopes his handwriting expertise will point them in the direction of the letter writer. Now, Gamadge has to use all his skills to track a killer down—before his threats become reality.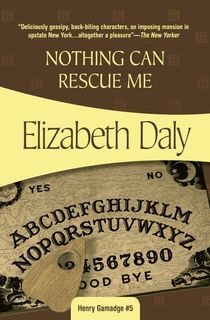 Nothing Can Rescue Me
With World War II raging on, Gamadge is feeling burnt out from the constant work to keep up the war effort on the home front. But it seems his old school friend Sylvanus Hutter's family is dealing with more stress than most. His Aunt Florence, terrified of being bombed by the Nazis, has moved her entire household to the old family mansion upstate. But even nestled away, her fear hasn't left her.
Someone is writing threatening messages in the manuscript of the novel Florence has been writing. Several residents of the house think they are a warning from the beyond, but Gamadge is convinced there's a much more reasonable, though no less dangerous, explanation.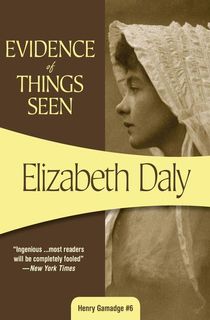 Evidence of Things Seen
Henry Gamadge's new wife Clara is looking forward to spending the summer in a rented cottage in the Berkshires. It's remote, quiet—and supposedly haunted by the ghost of a woman who died there one year prior. Clara enjoys the spooky atmosphere until death comes knocking and the dead woman's sister is strangled in her bed—while Clara is asleep in a chair right next to her. All Clara knows about the crime is that she saw a woman standing at the door wearing a sunbonnet, the same as the one supposedly worn by the ghost.
Frightened, Clara calls on Henry. Now, this couple will have to work together to find the truth.
Related: 16 Supernatural Mystery Books That Will Keep You up at Night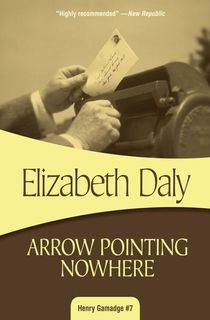 Arrow Pointing Nowhere
When he receives a series of mysterious letters claiming something nefarious may be going on in the Fenway family mansion, Gamadge has to investigate. The Fenways are well-known in New York for their wealth, but also for their secrecy. Is someone being held hostage in the house? And who sent the letters?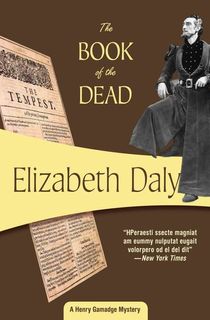 The Book of the Dead
When Gamadge is gifted an old copy of Shakespeare's The Tempest, he doesn't expect to uncover a mystery. The book once belonged to a Mr. Crenshaw, a friendless recluse who recently died. As Gamadge dives into his new copy of the play, he also traces the history of Mr. Crenshaw's life from California across the country to a mysterious meet-up on a cold, New England night. No one thought to look into his death, but it seems there might be more to this story than meets the eye.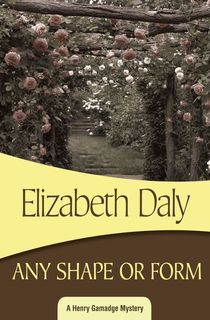 Any Shape or Form
The party for Johnny Redfield's Aunt Josephine comes to a grinding halt when the woman is found dead. Gamadge knows that anyone in attendance could have killed the eccentric woman from California. After all, with her constant talk of mysticism and other supernatural topics, she didn't exactly fit in with the New York elite. Now, with all the suspects still gathered, Gamadge will have to draw on all his detective skills to figure out who turned the evening into a permanent going away party.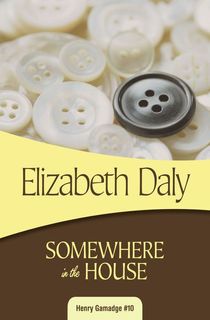 Somewhere in the House
When Grandmama Clayborn died, her will stipulated that her vast fortune and valuable button collection be sealed up in a locked room in the family mansion. Now, 25 years later, it's finally time for the room to be opened, and the entire family has gathered for the occasion. Concerned that her money-hungry relatives will try to con their way into more inheritance than they've actually been given, Harriet Clayborn asks Gamadge to serve as a witness. But when the room is revealed to contain a dead body, Gamadge will have to handle far more than just greedy relatives.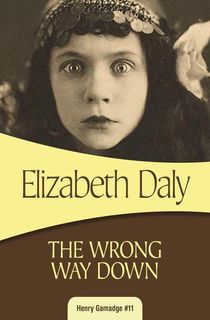 The Wrong Way Down
Clara's friend Julia Paxton has a perplexing mystery on her hands. As she explains to Henry, the framed etching that had been hanging in her hallway for as long as she can remember suddenly has a new inscription on it that reads 1793. As Gamadge attempts to solve the mystery, he finds more questions than answers.
Could Iris Vance, a relative and professional psychic medium, have something to do with it? Is this all a prank? Has someone swapped out the true etching for a fake? Or does this all connect to something much larger—and much more dangerous?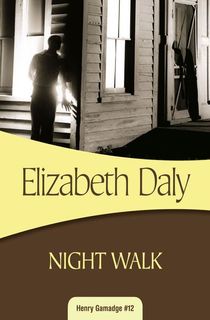 Night Walk
The village of Frazer's Mills, New York is practically stuck in another age. It's isolated from the rest of the world and everyone still knows everyone. The only thing that's really changed is that the mills themselves have been closed for years. But their peaceful rural existence is shattered when murder comes to town. Now, Gamadge is on the case.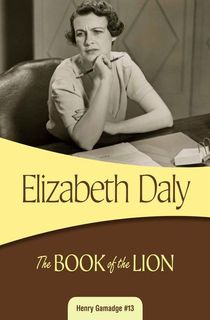 The Book of the Lion
As an antiquarian book dealer, Gamadge's latest job examining the papers of a dead playwright and poet is fairly commonplace. Except he's not really there to assess the document's worth. The writer was recently murdered in Central Park, and the only witness to the crime is dead too. With the family acting skittish, Gamadge has a funny feeling there's something more going on.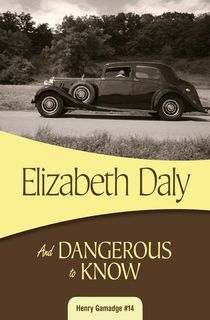 And Dangerous to Know
On a sweltering summer day on the Upper East Side, Alice Dunbar left her aunt's funeral, changed her outfit, stepped onto a subway car—and was never seen again. It's not every day that a member of the Manhattan elite disappears, and when the police can't find a trace of Alice, it's up to Gamadge to figure out what happened. Tracing her last known steps, Gamadge discovers that Alice had secrets of her own.
Related: 8 Must-Read Classic Crime Books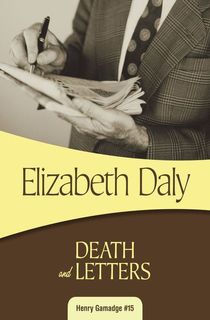 Death and Letters
Henry Gamadge has just received his most unique summons yet: a cry for help in the form of a crossword puzzle. An aging woman is being kept prisoner by her own family in their remote estate because, they claim, she has lost her mind. She says it's because they don't want her to tell the truth about her husband's supposed suicide. It's clear to Gamadge that anyone who can communicate through crossword puzzles has not lost their mind, but will he be able to decipher the truth with a powerful family standing in his way?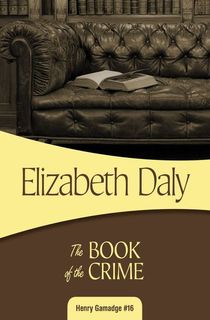 The Book of the Crime
The final book in the series sees Gamadge taking on the case of Rena Austen. Her husband, once a dashing war hero, has fallen into a depression, and the newlywed couple spends most of their days cooped up in their house with his ever-present and prickly family. One day, Rena pulls a particular book off the shelf, and her husband reacts so angrily that she flees. She turns to Gamadge for help, and it seems her husband's connection to the book is only the tip of the iceberg—especially when a dead body turns up.