Crime anthologies were once big business. You'd find them on the shelves of practically every bookstore, while any holiday home you rented was guaranteed to have a couple on the shelf. These days they have fallen out of favor with publishers, which is a great pity.
Anthologies remain a brilliant way to discover new writers and re-visit old favorites. Here are some of our favorites.
The Rivals of Sherlock Holmes: Early Detective Stories
Hugh Greene's wonderful series (there's also More Rivals…The Further Rivals and The American Rivals…) appeared in the early 1970s. As the name suggests they bring together the best short stories by writers who were contemporaries of Arthur Conan Doyle—creator of the beloved Sherlock Holmes.
The anthology features some well-known sleuths, including blind detective Max Carrados, "The Old Man in the Corner" and fiction's first forensic pathologist, Dr. John Thorndyke, as well as ace French thief, Arsene Lupin and "The American Sherlock," Augustus Van Dusen. Sprinkled amongst these well-known figures are hidden gems by the likes of Arthur Morrison, C.L Pirkis, and Austrian detective writer Balduin Groller.
The four volumes were collected in The Penguin Complete Rivals of Sherlock Holmes. If you see a copy, grab it!
A Moment on the Edge: 100 Years of Crime Stories by Women Edited
The best-selling author of the Inspector Lynley mysteries, Elizabeth George brings together 27 mystery tales written by women between 1917 and 2009 in this lovingly created anthology. Among those included are Golden Age heroines Dorothy L. Sayers, Margery Allingham, and Ngaio Marsh, as well as contemporary giant Ruth Rendell.
There's also a surprising contribution from Shirley Jackson—better known for her works of supernatural suspense—and a very nice tale featuring an elderly Sherlock Holmes by Gillian Linscott. George contributes an insightful, illuminating introductory biographical essay to each story.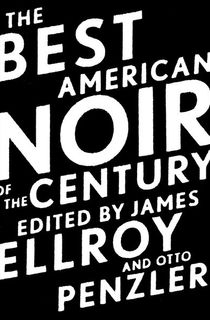 The Best American Noir of the Century
Pretty much any mystery anthology edited by Otto Penzler is worth checking out, including the annual The Best American Mysteries series which features leading and newly discovered writers from across the U.S.
This blockbuster collection of 39 tales—written between 1923 and 2007—is a must-have for those who like their crime hardboiled. It features short fiction by Old School writers such as James M. Cain, Dorothy B. Hughes, Jim Thompson, and Patricia Highsmith, alongside the work of modern neo-Noir masters like Dennis Lehane and Elmore Leonard.
Also noteworthy is the inclusion of Todd Robbins' story Spurs, the basis for Tod Browning's cult film Freaks.
Classic American Crime Fiction of the 1920s
At close to 1,200 pages this whopping anthology edited by an expert on the history of detective fiction Leslie Klinger and featuring a typically astute introduction by that man Otto Penzler, is a genuine labour of love.
It features five short novels by the great names of U.S. mystery written during the Jazz Age including Dashiell Hammett, Ellery Queen, and S.S. Van Dine. There's also a welcome reappraisal of Charlie Chan.
Each novel is insightfully annotated and there are over 100 beautiful illustrations, too.
The CWA Anthology of Short Stories: Mystery Tour Edited
A New Omnibus of Crime
In 2005 top crime writer Tony Hillerman (The Leaphorn and Chee novels) and mystery fiction editor Rosemary Herbert got together to create an updated version of Dorothy L. Sayers 1929 anthology The Omnibus of Crime (which is well worth adding to your collection, if you can find a copy). Using stories by crime writers from the 1930s up to the 21st Century, they succeeded admirably.
The omnibus contains high-quality short stories from Hillerman himself alongside tales by British writers P.D. James and Sue Grafton. There are also contributions from that great chronicler of crime in Montana, James Crumley, hardboiled Cornell Woolrich, and the always stylish Raymond Chandler. The volume also features a couple of mysteries from literary heavy-hitters John Cheever and Norman Mailer.
The Best Mystery Stories of the Year 2022
The second volume in what will hopefully become an annual anthology from MWA Grandmaster. Sara Paretsky and ace anthologist Otto Penzler select twenty outstanding mystery tales published in 2022.
The anthology features some of the biggest names in international crime writing—Michael Connelly, Jo Nesbø—new, up-and-coming writers and Pulitzer Prize-winner, Colson Whitehead. The stories range from classic whodunnits to tales of inner-city mobsters.
As an added bonus there's a story written way back in 1922 for comparison.